!aearwaker -->
THE HELEN SHAPIRO FRIENDS CLUB
DISCOGRAPHY
The UK Albums 1962-1965
For more detail, double click on the images....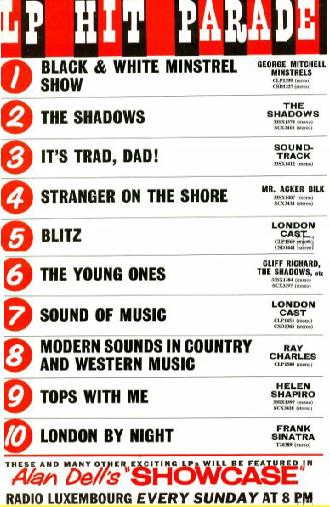 (10-03-1962) Tops with me 33SX 1397 SCX 3428 TA33SX1397 Reel Tape(mono)
XAX2252 YAX851-1
Side 1: 1. Little devil 2. Will you love me tomorrow? 3. Because they're young 4. The day the rains came 5. Are you lonesome tonight? 6. A teenager in love
XAX2253 YAX852-.Side 2: 1. Lipstick on your collar 2. Beyond the sea (La mer) 3. Sweet nothin's 4. You mean ev'rything to me 5. I love you 6. You got what it takes
| | | |
| --- | --- | --- |
| ...... | | |
(05-04-1963) Helen's Sixteen Columbia 33SX1494 SCX3470
XAX2437-1N YAX996-1
Side 1: 1. Tearaway Johnny 2. Without your love 3. Walking in my dreams 4. Who is she? 5. I want to be happy 6. Time and time again 7. Aren't you the lucky one 8. Every one but the right one
Track 6 recorded 20-12-1962 Track 5 01-09-1961 Track 8 15-08-1962 ABBEY ROAD STUDIO 2
XAX2438-1N YAX997-1
Side 2: 1. It's all right with me 2. Lookin' for my heart 3. Basin Street blues 4. You must be readin' my mind 5. Till I hear the truth from you 6. Sensational 7. Easy come easy go 8. I believe in love
Track 3 recorded 23-05-1962 ABBEY ROAD STUDIO 2
(1963) Helen in Nashville Columbia 33SX1561 mono
XAX2523 Side 1: 1. Not responsible 2. I cried cried myself to sleep last nite 3. Young stranger 4. Here today and gone tomorrow 5. It's my party 6. No trespassing
XAX2524 Side 2: 1. I'm tickled pink 2. I walked right in 3. Sweeter than sweet 4. You'd think he didn't know me 5. When you hurt me, I cry 6. Woe is me
| | | |
| --- | --- | --- |
| ...... | Side 1 acete in STEREO | |
XAX2693 YAX1156-1 Side 1: 1. My guy 2. All alone am I 3. He's a rebel 4. Move over darling 5. Keep your hands off my baby 6. Remember me 7. Shop around
Track 5 recorded 20+22+24-07-1964
XAX2694 YAX1157-1 Side 2: 1. Walk on by 2. The end of the world 3. It might as well rain until September 4. Baby it's you 5. Please Mr postman
6. It's in his kiss 7. Stay
Track 6 recorded 01-07-1964 ABBEY ROAD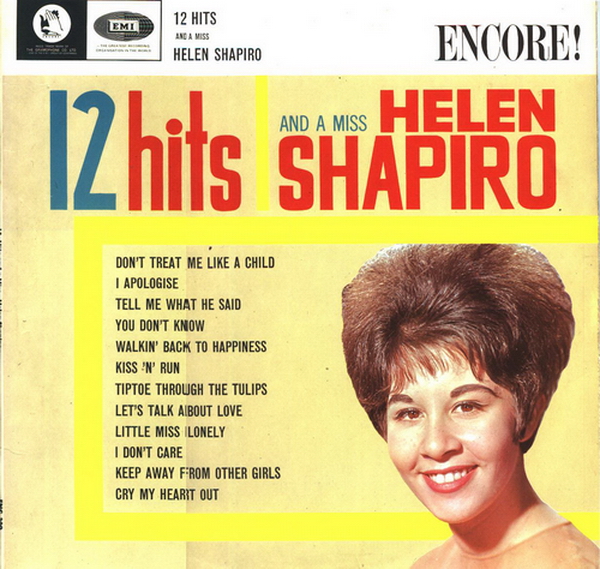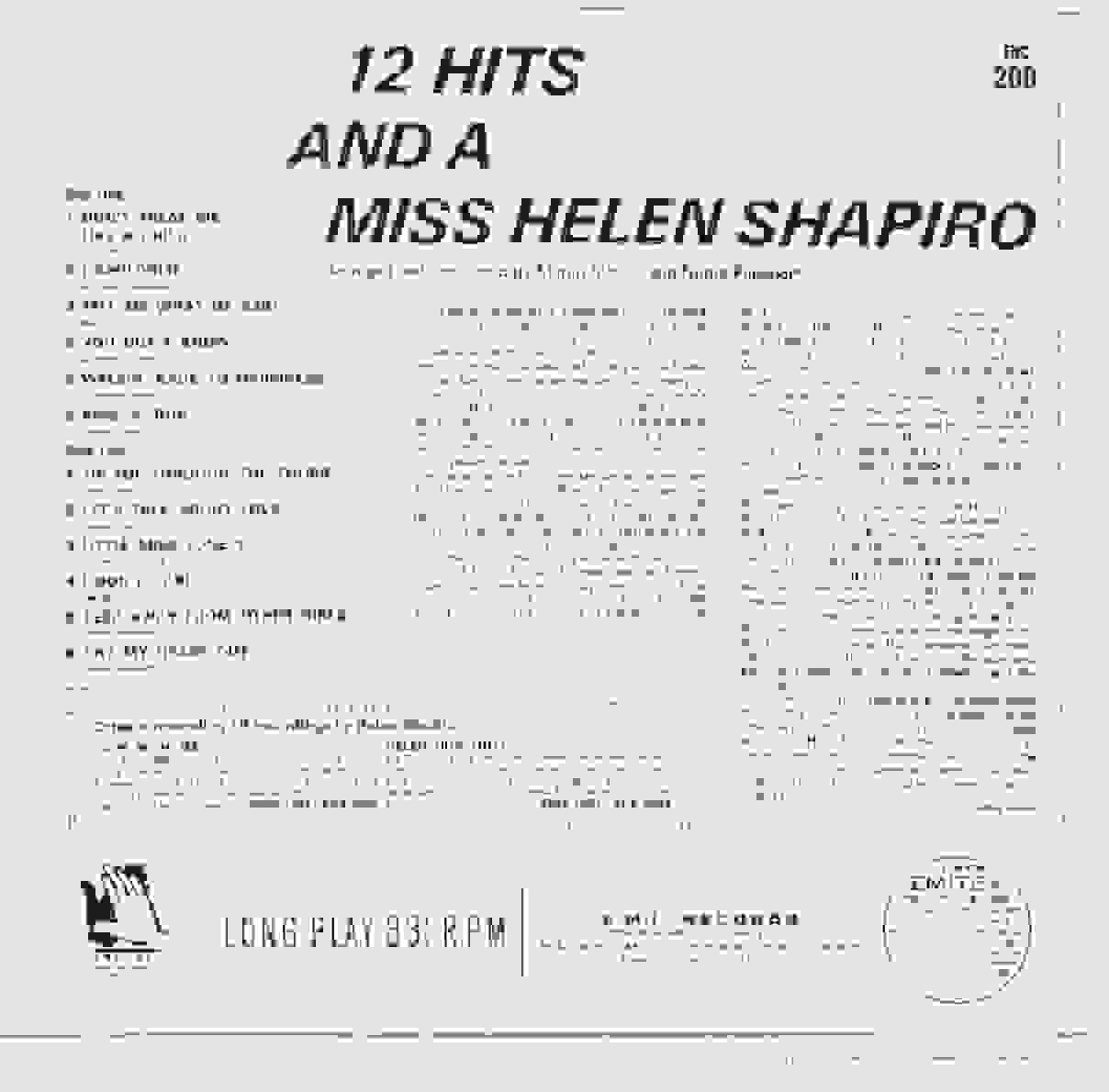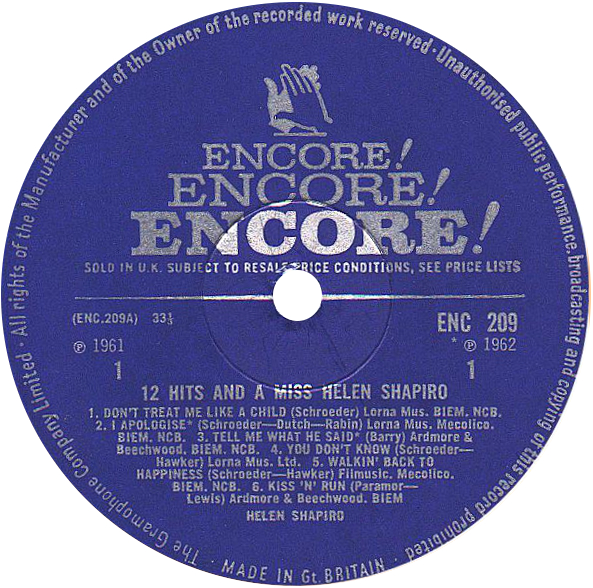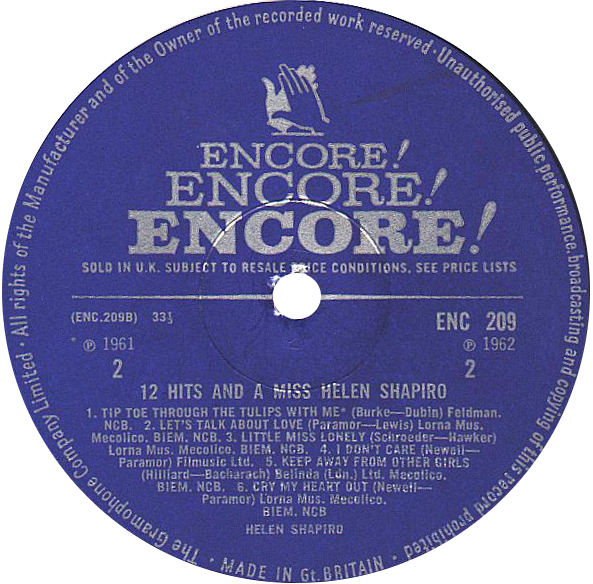 (1965) Twelve hits and Miss Shapiro Encore ENC-209 mono
XAX2435 Side 1: 1. Don't treat me like a child 2. I apologise 3. Tell what he said 4. You don't know 5. Walkin' back to happiness 6. Kiss 'n' run
XAX2436 Side 2: 1. Tiptoe through the tulips 2. Let's talk about love 3. Little Miss lonely 4. I don't care 5. Keep away from other girls 6. Cry my heart out
Trivia:
Acete of 'Without your love' - Helen on one side, and Lynda Graham on the other.
Versions by other artists:
Lynda's single was released on Philips BF.1249
Lesley Gore 'It's my party' Mercury AMT 1205
Helen on recording in Nashville:

'Going to Nashville was a big thrill. Norrie Paramor was the co-producer with a guy called Al Kasha in the control booth. Elvis Presley's group, the Jordanaires, did the vocal backing with the help of three girls, Milly, Dolly and Prissy. I thought I had really arrived, using Elvis' backing group'. Helen found the experience of recording in Nashville to be much less stiff and formal than in London: 'The studio was something of a surprise, though. It was just like a shack or a small barn. There were no musical scores. We just had a rough chord chart, the demo acetates we'd been given to work from and a turntable. We would talk about which song we'd do, stick the demo on the turntable and work out the chords, instruments and vocals. I was plonked in the middle of the studio with a mike. The musicians were all around me. I loved it. The guitarist brought in a fuzz-box to use on "Woe Is Me", which Jackie DeShannon had written, and the three girls added the wailing sound, very black and soulful. We all had high hopes of the single doing well but it was way ahead of its time. Another good single, "Not Responsible", was released next. The piece de resistance which we were saving until last was a song called "It's My Party". Right from the first time we heard the song on the rough demo back in London, we thought we were going to sock them between the eyes with that one. We'd been told that the song was an exclusive for me but by the time we got round to releasing it Lesley Gore had come out with her version which was an enormous hit on both sides of the Atlantic. Her version was much more punchy than mine but if we'd had any inkling that something like that was going to happen we'd have released my recording first'.
Trivia:'It's my party' was only issued in the UK in MONO on the Nashville album, but in STEREO on the US album, A Teenager In Love EPIC EPSP 26075, so perhaps there is a complete stereo matrix of 'Helen In Nashville' somewhere in the USA.
Malcolm Baumgart mentions Helen in his sleeve notes
on the Lesley Gore cd album: California Nights (2015)
1962-1965 | 1974 | 1983-1986 | 1987-1990 | 1991-1995 | 1997-2000 | 2002 |&nbsp 2003 |&nbsp 2005 |&nbsp 2006 |&nbsp 2010 |&nbsp 2011 |&nbsp 2013 |&nbsp 2015 |&nbsp 2016 |&nbsp

Most recent revision 19th January, 2016 HELEN SHAPIRO