HELEN SHAPIRO FRIENDS CLUB
FAN MEMBER PAGE
Andrew Earwaker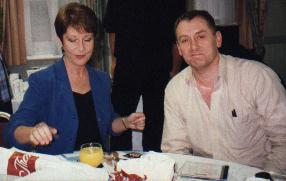 Helen and myself at the November 1997 Fan Club Get Together!
Hello,- my name is Andrew Earwaker,I have been a HELEN SHAPIRO FAN ever since I was at school in 1961, and heard HELEN'S first record release!
Since then I have collected almost every UK single and album that she has released.
I will add some more details at a later date, ie what I was doing as each of Helen's singles was released - will probably be quite boring!
Andrew Earwaker