THE HELEN SHAPIRO FAN CLUB
FAN CLUB MEMBER PAGE
Gay Wiggins
Gay is the Fan Club Secretary
---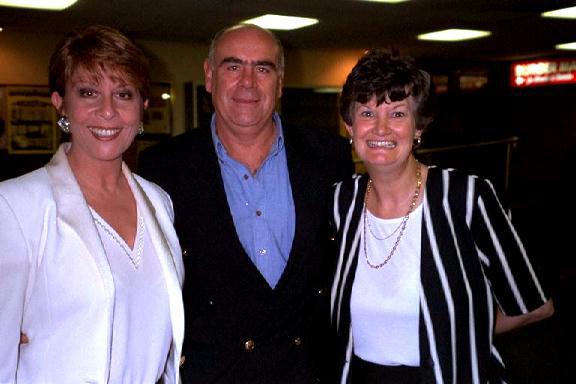 Helen Geoff and Gay
---
I was born in 1948 at Clacton-on-sea, and have lived here most of my life , and have been a secretary almost all of my working life.
I trained as a Secretary for a local Solicitor, have worked as a School Secretary, Wages Clerk and Cook! I am now Secretary and Office Manager for a Surveyor, and am fortunate enough to work just three days a week.
I have been a Helen Shapiro Fan since 1961, and was very lucky that my dad was a delivery driver, visiting Yarmouth amongst other places, and during the summer holidays of 1962 he took Mum and I to Yarmouth where Helen was appearing, with Ronnie Corbet, and we persuaded him to stay a bit longer so that mum and I could see the show. (60's package shows never came to Clacton!) I was (and still am) a Tommy Steele Fan, and of course, The Beatles were very much at the top of my list!
When Helen's career took a break, so did mine-while I had my family. In 1982, when Helen appeared in "Oliver", my husband Geoff and I took our children, Paul and Sharon to see their first West End Musical Production
In the following years, we travelled to Ashton-under-Lyne, to see Helen in Pantomime, and to Lancaster to see "Cabaret" being performed "in the round" - very unusual and very enjoyable. We went to Harlow to see "Goosepimples" , Bath for "One For The Road", and Northampton where we saw "Seesaw", to name but a few shows.
In 1983, we moved to Somerset, and it was at Brent Knoll that we had the opportunity to meet both John and Helen after the performance. It was a magical evening for us. Although we had been to several "Get-togethers" and had met Helen after many performances, this evening was the beginning of our friendship with them both.
Following that night, we went to The Royal Festival Hall for the Duke Ellington Concert with Humphrey Lyttelton- an evening which was to be a turning point in Helen's career. We also went to see her perform at "The Ritz", in London.
In 1990, I was privileged to be offered the chance to take over the running of Helen's Fan Club- a job I thoroughly enjoy, even though it is no longer a part time-hobby- but a full time occupation!
In 1990, Helen also made her first visit to Clacton to perform the World Premier of the latest HUMPH 'n' HELEN Concert. A magical evening for us- I remember walking to the Theatre- and floating home!
I am very lucky to have the full support of both Helen, John, and my husband Geoff-without whom I could not produce the Bimonthly newsletters on time.
I hope to be able to continue with The Fan Club as long as Helen performs Concerts....

Copyright © 1998 Andrew Earwaker