HELEN SHAPIRO UK/EUROPE TOUR DATES
News 1997
29th DECEMBER
Jan Grefstad, a fan in New Zealand tells me that there have been several radio reports there, of Helens dispute with Channel Four
12th DECEMBER>
HELEN MAKES FRONT PAGE OF "THE STAGE"
Helen's dispute with C4 makes front page headlines in "The Stage" dated 11/12/97, also an article in THE GUARDIAN
| | |
| --- | --- |
| And in today's Independent. | |
11th DECEMBER

The following article appeared on CEEFAX page 566!

SHAPIRO SET TO SUE OVER ONE HIT SLUR Helen shapiro may sue C4 for libel after being included in publicity for a programme about "one hit wonders"

The singer, 51, is livid at notes- since changed- for C4's "Brit Girls: One Hit Wonders" describing her shining "brightly but briefly" in the Sixties.

The star had No 1s with You don't Know and Walkin' Back To Happiness in 1961 plus a string of other chart hits and currently has five albumss on release.

Shapiro is set for a 50-date UK tour.

4th DECEMBER

John says that he has been in touch with Granada and CH4 about calling Helen a 'Has Been' and they have agreed to rename the episode which includes Helen as "Girls On Top". Helen and John have also complained to Equity, and they have become involved!

27th NOVEMBER

A MESSAGE TO ALL HELEN SHAPIRO FANS.

One of the frustrations of being a Helen Shapiro fan over the years has been that the media have overlooked her tremendous talent.

For many of us I'm sure a series highlighting the talent of British female singers of the 1960s appeared to give hope that this situation could be remedied.

Unfortunately it is clear from the publicity surrounding the series that this is not the case.

As you probably know Helen appears in the last programme of the series with Millie,Twinkle and PP Arnold and the programme is devoted to "the fleeting fame of the one hit wonders".

Various newspapers and magazines are repeating in their programme previews that Helen is a 1 hit wonder or "never quite made it".

Personally,I'm not prepared to put up with this codswallop!

We need to point out to Channel4 that

1.Helen is not a 1 hit wonder-she had 11 hits between 1961 and 1964.

2.In terms of chart consistency Helen had 119 weeks in the charts,while Twinkle had 20 weeks,Millie 33 weeks,and PP Arnold 27 weeks. There is in short no realistic comparison between the impact of Helen and the others, who had 3 Top 50 hits each.

3.The most interesting point about Helen is the way her career has blossomed since the 60s which cannot be said of the vast majority of 60s stars.

LET'S TELL CHANNEL 4 WHAT WE THINK ABOUT THE CRUDE STEREOTYPE VIEW OF HELEN BEFORE THIS PUBLICITY GOES ANY FURTHER.

ONE WAY YOU CAN DO THIS IS ACCESSING THE "REACH4" SITE ON THE INTERNET.

http://www.channel4.com/

then click on REACH4!

then scroll down 'topics' to Brit girls

You'll find Brit Girls listed under existing topics and you can add your comments to mine and Andy's.

Alternatively you can write to Channel 4,

Viewers Enquiries,

124 Horseferry Road

London SW1P 2TX.

Let's show them how determined we are to tell the world about Helen's amazing talents!

DEREK LENNARD.26.11.97
Article from TIME OUT dated November 19-26 1997
Part of article reads:
"The series (BRIT GIRLS) continues with programs on Sandy Shaw,Marianne Faithful and Lulu, and ends with a programme on those who never quite made it, like Millie Small (who recorded 'My Boy Lollipop'), Twinkle, and Helen Shapiro, who was supported by The Beatles on her first tour before being written off as a has-been at 16."
Why not tell TIME OUT what you think about Helen:
Last Word
Time Out
251 Tottenham Court road
LONDON
W1P 0AB
21st NOVEMBER
Check out CHANNEL FOUR over the coming weeks for "BRIT GIRLS"-Saturdays 21:00 -hopefully HELEN might be mentioned..???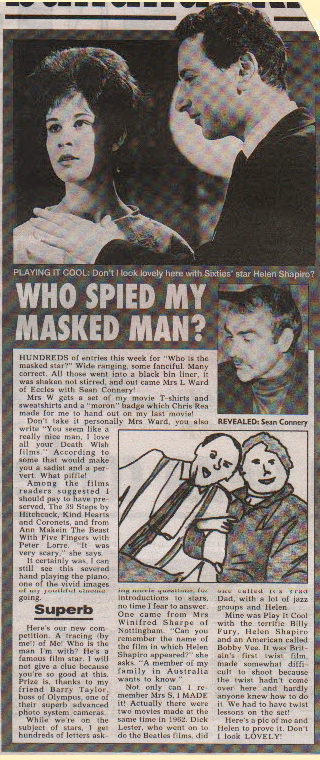 Article from THE NEWS OF THE WORLD dated 16/11/97

21st NOVEMBER..............................................................................

The "Abbey Road" album tracks have finally been put together. and are as follows.

Track 1: Don't treat me like a child (mono)

Track 2: You don't know (mono)

Track 3: Walkin' back to happiness (Take 2+ Studio conversation) (stereo)

Track 4: Walkin' back to happiness (take 13 master) (stereo)

Track 5: Kiss 'n' run (stereo)

Track 6: I want to be happy (stereo)

Track 7: Let's talk about love (mono)

Track 8: Tell me what he said (stereo)

Track 9: Little Miss lonely (mono)

Track 10: A teenager sings the blues (mono)

Track 11: I can't say no to your kiss (Take 4 B/D + Take 5 +studio conversation) (stereo)

Track 12: Sometime yesterday (stereo)

Track 13: I don't care (stereo)

Track 14: Basin Street Blues (mono)

Track 15: Every one but the right one (mono)

Track 16: Keep away from other girls (mono)

Track 17: A dozen other boys (Take 4 B/D + Take 5 + Studio conversation) (stereo)

Track 18: Queen for tonight (stereo)

Track 19: Time and time again (stereo)

Track 20: Look who it is (mono)

Track 21: Fever (mono)

Track 22: Look over your shoulder (mono)

Track 23: It's in his kiss (stereo)

Track 24: I wish I'd never loved you (stereo)

Track 25: Shop around (stereo)

Track 26: Keep your hands off my baby (mono)

Track 27: You're my remedy (mono)

Track 28: I'm going out (the same way I came in) (mono)

*** Note: Helen had the final say as to which tracks were released, and would not allow these three 1965 recordings to be included, as this was the period when she had to have an operation on her throat, and she was not happy with her voice!***

She also wanted her earlier recordings: Don't treat me...you don't know, let's talk...Tell me what....Little Miss Lonely ..A Teenager.....Basin Street Blues... Keep Away.... included, so there wasn't room for the '16'album tracks.- as far as I am aware they are not available on CD anywhere.

Helen will be writing the sleeve notes! Release date to be advised.

26TH OCTOBER..............................................................................

The following tracks have now been selected for the final release.........................

Track 1: Don't treat me like a child (mono)

Track 2: You don't know (mono)

Track 3: Walkin' back to happiness (Take 2+ Studio conversation) (stereo)

Track 4: Walkin' back to happiness (take 13 master) (stereo)

Track 5: Kiss 'n' run (stereo)

Track 6: I want to be happy (stereo)

Track 7: Let's talk about love (mono)

Track 8: Tell me what he said (stereo)

Track 9: Little Miss lonely (mono)

Track 10: A teenager sings the blues (mono)

Track 11: I can't say no to your kiss (Take 4 B/D + Take 5 +studio conversation) (stereo)

Track 12: Sometime yesterday (stereo)

Track 13: I don't care (stereo)

Track 14: Basin Street Blues (mono)

Track 15: Every one but the right one (mono)

Track 16: Keep away from other girls (mono)

Track 16: A dozen other boys (Take 4 B/D + Take 5 + Studio conversation) (stereo)

Track 18: Queen for tonight (stereo)

Track 19: Time and time again (stereo)

Track 20: Look who it is (mono)

Track 21: Fever (mono)

Track 22: Look over your shoulder (mono)

Track 24: I wish I'd never loved you (stereo)

Track 25: Shop around (stereo)

Track 26: Keep your hands off my baby (mono)

Track 27: You're my remedy (mono)

Track 28: I'm going out (the same way I came in) (mono)

Track 23 one of these tracks: Sometime yesterday It's in his kiss Without your love

Stop and you will become aware, and She needs company were to have been included, but then it was realised that these tracks were not recorded at Abbey road!

Due to a misunderstanding on my part, tracks from the current tour were NOT to have been included...Apologies!

10TH OCTOBER..............................................................................

The following tracks have been transferred to reference Cd for evaluation.

I can't say no to your kiss (take 4 and 5)inc false start

A dozen other boys-inc false start

You're my remedy (take 4)

***This isn't the way I wanted it to be***

***It's been nice loving you***

***Cu Cu Ru Cu Cu Paloma***

I'm going out the same way I came in (take 8)

Walkin' back to happiness (master take 5)

Walkin' back to happiness alternate version (take 2)

Walkin' back to happiness (take 4 with chat)

Kiss 'n' run (master take 5)

Kiss 'n' run alternate version(take 1)

I don't care (take 9)

Sometime yesterday (take 23)

Cry my heart out (take 18)

Tell me what he said

Queen for tonight

Time and time again (original session)

I wish I'd never loved you (take 7)

Shop around

He knows how to love me (take 10)

Walkin' in my dreams

Who is she?

I want to be happy

I believe in love

It is hoped to issue 25 tracks altogether, but not all of these tracks will be on the final album-more details later!

I will be bringing a copy to the get together!

1ST SEPTEMBER..............................................................................

EMI is interested in releasing a CD with Helen's hit singles, and also to include unreleased tracks from the vaults, for the 'At Abbey Road' series

Details of the tracks below-watch this page for further developements!

HELEN SHAPIRO UNRELEASED TRACKS IN EMI ARCHIVES

26/10/63 - A pen? full of tears-not found in archives

27/10/64 - ? Peter weir deure (mono)-not found in archives

27/10/64 - ? Peter weir deure stereo)-not found in archives

04/05/65 - You're my remedy (mono)

01/09/65 - Cu Cu Ru Cu Cu Paloma (mono)

09/12/65 - It's been nice loving you (mono)

14/12/65 This isn't the way I wanted it to be (mono)

31/01/67 - I'm going out the same way I came in (mono)

Tape report:

28/07/61 EO43230 Walkin back to happiness (stereo)(7 tracks)

Kiss 'n' run (stereo)(5 tracks)

-are these all different versions?

12/01/62 EO44085 I can't say no to your kiss (stereo)

05/02/62 EO46269 Cry my heart out (stereo)

But I don't care (stereo)

Sometime yesterday (stereo)

21/02/62 EO46326 I don't care (stereo)

Sometime yesterday (stereo)

Cry my heart out (stereo)

21/12/62 AB0225188 I can't say no to your kiss (mono)

21/02/62 EO46327 Cry my heart out (overdub) (stereo)

01/11/62 EO44081 Tell me what he said (stereo)

20/12/62 EO48616 A dozen other boys (stereo)

Queen for tonight (stereo)

Time and time again (remake) (stereo)

20/12/62 EO48616A A dozen other guys (mono)

Time and time again (remake, edit) (mono)

EO48617A A dozen other boys (stereo)

03/03/64 EO51916 Look over your shoulder (remix) (mono)

You won't come home (remix) (mono)

27/12/64 EO54185 Danke (mono)-not found in archives

07/05/65 EO56087 You're my remedy (mono)

30/09/65 The way of the world (mono)

01/09/65 Cu Cu Ru Cu Cu Paloma (mono)

09/12/65 It's been nice loving you (mono)

14/12/65 This isn't the way I wanted it to be (mono)

01/02/67 EO63151 I'm going out the same way I came in (mono)

HELEN SHAPIRO ARCHIVE ALBUM TRACKS NOT RELEASED IN STEREO ON CD

01/09/61 YAX 996-1 I want to be happy

Walking in my dreams(not true stereo)

Who is she

Time and time again

06/12/62 YAX 997 I believe in love

******************************************************************************************

For full details of Helen's Fan Club please send sae/2 x IRCs to:

Hon Sec: Mrs Gay Wiggins 63 Arnold Road CLACTON ON SEA Essex CO15 1DQ United Kingdom