Recorded live at Keswick Convention 1999, this superb video features Helen sharing her remarkable story in word and song, presenting a powerful gospel challenge to both Jew and Gentile alike. Running time: 100 minutes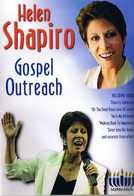 Song List:
There is Someone
Oh the Deep Deep Love of Jesus
He is My Defence
Walking Back to Happiness
and excerpts from others

£11.99 plus postage and packing

Click on the ICC logo below to order.
30TH DECEMBER
LOOKING BACK OVER THE YEAR 26TH DECEMBER
Helen had a very busy year with dates all over the Uk, performing for many thousands of people.
The downsides were three venues not paying her fees straight away- see Sunday Mercury article dated 8th October (above) , and Sunday Mirror article dated 10th September.
26TH DECEMBER
BILL/BESS COLEMAN
If you emailed me recently about them, could you please get in touch again, as your original message got 'lost'
14TH OCTOBER
DAILY EXPRESS ARTICLE 26TH DECEMBER BILL/BESS COLEMAN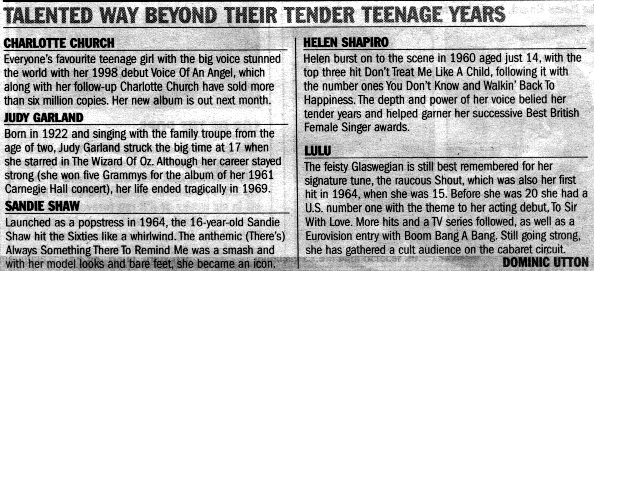 This article was a footnote to the Hannah Morris article in the Daily Express
11TH OCTOBER
FORTY YEARS IN SHOWBUSINESS!!!
Helen will be celebrating forty years
in Showbusiness, next February 10th!!
To mark the occasion, the Friends Club has organised a special dinner (7.30pm) at a hotel in London on Saturday 10th February .
Of course Helen and John will be attending as special guests!
There are only a limited number of dinner tickets left, costing £50 each, and these are only available to Members of THE FRIENDS CLUB
Accommodation at the Hotel can also be arranged.
To join the friends Club

Gay Wiggins
without delay!!!!

SOUNDS OF THE 60's RADIO TWO - 7TH OCTOBER
Helen was heard very briefly talking about her 1962 tour with the Beatles...
THE GUESTBOOK
I am having problems with the Guest Book at the moment- The last entry I was able to read was 41 or 42
If I can't resolve the problem I will start a new one. In the meantime, bear with me...
RONNIE SCOTT'S

Derek Lennard sent
this excellent review from his Birmingham visit.
ROCKING IN THE AISLES- RADIO TWO
Helen was heard chatting about her appearances in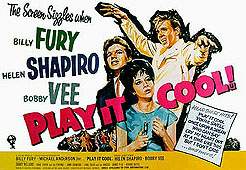 'It's Trad, Dad" and 'Play It Cool',
and how it was a new experience for her, and how the director, Dick Lester was very helpful, and kind!
She recalls Michael Winner, the Play It Cool' director talking to everbody through a megaphone, even if he was standing right next to them!
Two of Helen's recordings were played: 'Let's talk about love, and I don't care'
This is a seven part series, so it might be worth checking out all of the episodes!!
28TH SEPTEMBER
RONNIE SCOTT'S

Helen celebrated her birthday at Ronnie Scott's and was presented with a birthday cake at the end of her first act. She will be there until Sunday night, so if you get the chance to go don't miss the opportunity!.
She was also interviewed on Central Television earler in the day!
Pictures here
27TH SEPTEMBER
RADIO TWO THURSDAY 28TH 22:00
Oops, apologies,slightly crossed wires I'm afraid.
Check out ROCKING IN THE AISLES on Thursdays, with Adam Faith exploring Pop in the 1960's cinema.
25TH SEPTEMBER
RADIO TWO TUESDAY 26TH 21:00
There will be an interview with HELEN , talking about about her appearances in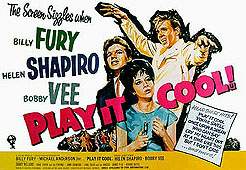 'Play It Cool', and 'It's Trad, Dad"
12TH SEPTEMBER
ECHOES OF THE BEAT GOES ON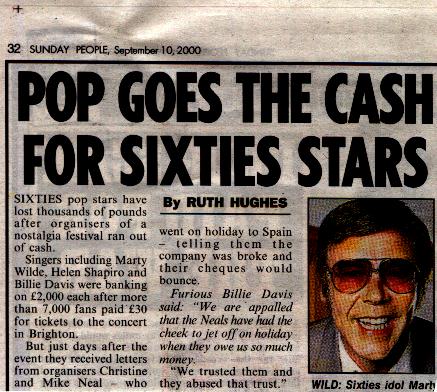 This article appeared at the weekend......
THE SIXTIES- RADIO TWO
Helen was heard talking about her first television appearance in 'Thank Your Lucky Stars' and being introduced by Michael Holliday. She also mentioned enjoying listening to the 'new style' pirate radio stations
9TH SEPTEMBER
BRIAN MATTHEW RADIO TWO
Brian Matthew played 'You don't know' on his Sounds Of The Sixties Radio Show this morning, then went on to mention that The Beatles were on her 1962 Tour. (He is doing a Beatles feature each week on the show.)
Also check out 'The Sixties' - RADIO TWO, Tuesdays 21:00, there will be an interview with ADAM FAITH, and HELEN talking about about her appearances in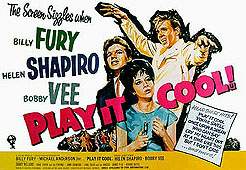 'Play It Cool', and 'It's Trad, Dad"

Helen celebrates a birthday on the 28th....If you wish to send a birthday card please send it to:
Helen Shapiro (birthday)
c/o The Helen Shapiro Fan Club,
63 Arnold Road
CLACTON ON SEA
Essex
CO15 1DQ
United Kingdom
(to arrive by 25th September please...)
30TH AUGUST
ROUTES OF ROCK
Routes Of rock was shown on CARLTON TELEVISION on Monday, and included a clip of Helen.
Check out your local independent television listings in case the programme is shown in your area soon...
27TH AUGUST
OPERATION GOOD GUYS 31st AUGUST
Check ot this progamme on BBC 2 22:00
John - Helen's husband appears in this episode!
25TH AUGUST
SPEND, SPEND, SPEND THE MUSICAL
Helen was asked to take over from BARBARA DICKSON but had to decline because she is so busy.....
HELEN SHAPIRO STORY CD
Good news and bad news...
The CD is number 19 in the BOXMAN chart,
but the price has been revised to £5.99, although postage is now free for a limited period...
Or you can order the album from CD Zone
(£6.40 plus £0.74 p&p
23RD AUGUST
SUMMER SIXTIES 2000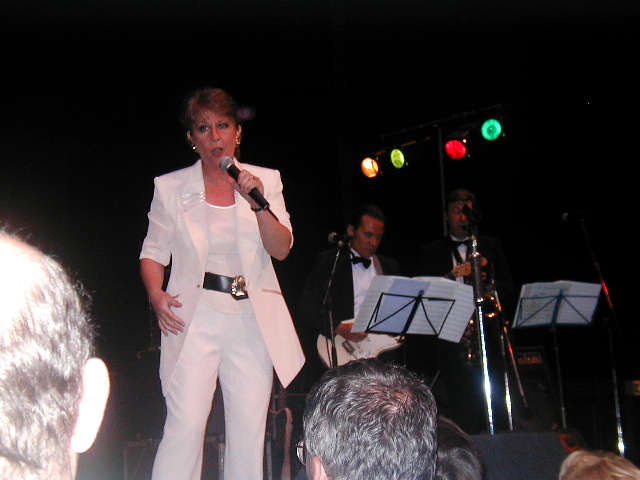 Didn't we have a lovely time at Brighton last weekend.
HELEN'S performance on Sunday was the highest point of the show of course! I will gradually add more pics when time allows in the meantime check these out....
6TH AUGUST
RONNIE SCOTTS BIRMINGHAM THURS 28th SEPT-SUN 1st OCT
Derek Lennard emailed me:
"I Thought your readers might be interested that when I tried to book this concert I was told that it would cost £36.45 per person including a 2 course meal. However when I mentioned that I had seen on their website that there were special deals the price went down to £19.95 per person(again inclusive of a meal). As there are 4 of us going a massive saving was made! "
Check out Ronnie Scotts.co.uk
before you order your tickets!! When you get there, click on July/August, then August link, then 'click here for dining at Ronnies' , then open the Menus windows,.When you telephone, mention that you visited their Website , quote the 'New Menu' prices, and hopefully you will only pay these prices-good luck!
Thank you Derek!!
31ST JULY
BRIGHTON SUMMER SIXTIES 2000 FESTIVAL 18th - 20th AUGUST

There are still some tickets available for this event
Please note that they are now only available through The Brighton Centre Booking Office, and are subject to a booking fee..
Ticket prices are:
Weekend (3 days) £60
Friday 18th £17.50
Saturday 19th or Sunday 20th £25
For accomodation details click on pics above. Helpline number is 44 206 240385
30TH JULY
BIOGRAPHY
Check out this complimentary biography of Helen, which appears on

25TH JULY
DUTCH ALBUM
A new 'Best of' CD 'The Story', has been issued by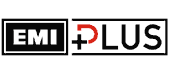 in Holland, containing the first 20 EMI single releases, except 'Something wonderful'
All tracks are MONO except 'Little Miss lonely', and 'Daddy couldn't get me one of those'
The release also includes a bonus CD-ROM with a biography, album discography, photo gallery, and screensaver.
The photo gallery contains five beautiful publicity stills of Helen
You can order the album from
cdzone (£6.40 plus £0.74 p&p
or Boxman £3.99 plus £1.95 p&p
Just enter a search for 'Helen Shapiro' when you reach the webpages.
3RD JULY
RADIO TWO
During the summer, on THE KEN BRUCE RADIO TWO MORNING SHOW (9:30 -12:00) two tracks each day of Helen's top 10 Classic Pop Songs will be played in the 'Tracks Of My Years' slot
Also, on RADIO TWO, there will be an interview with ADAM FAITH, and HELEN talking about about her appearances in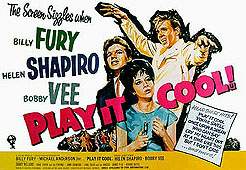 'Play It Cool', and 'It's Trad, Dad"

You will need to keep checking the programme Listings...

Back to the top of the page &nbsp

January to June 2000 News

Index Page