THE HELEN SHAPIRO FRIENDS' CLUB
NEWS 2000
21ST MAY
GOSPEL TESTIMONY

Song List:There is Someone
Oh the Deep Deep Love of Jesus
He is My Defence
Walking Back to Happiness
and excerpts from others order here

Recorded live at Keswick Convention 1999, this superb video features
Helen sharing her remarkable story in word and song, presenting a
powerful gospel challenge to both Jew and Gentile alike. Running time: 100 minutes

>

17TH MAYYOURS MAGAZINE
Check out YOURS magazine, on sale 22nd MAY -the Fan club will be included in the Fan Club listings in their Entertainment Special section.....
13TH MAY
BRIGHTON SUMMER SIXTIES 2000 FESTIVAL

The Timetable for the show is now available, also accomodation- click on pics above for more details. Helpline number is 44 206 240385
Ticket prices are:
Weekend (3 days) £60
Friday £17.50
Saturday or Sunday £25
Please note that if you book through The Brighton Centre they add extra charges - £5 per 3-day ticket plus a postal charge. You can send a cheque and a stamped addressed envelope to 'The Beat Goes On' to avoid this.
PO BOX 4109
Wormingford
COLCHESTER
Essex
CO6 3GB
Cheques payable to 'MYKRIS PUBLICITY'
30th APRIL
DESMOND CARRINGTON RADIO 2
Desmond's theme this week was 'rain', and besides playing songs by 'The Greats' -Ella Fitzgerald, Frank Sinatra, Nat King Cole, Louis Armstrong, etc, he included Helen's It might as well rain until September from her Can't Get Started CD- cheers Desmond!
29th APRIL
TOPS WITH ME/HELEN HITS OUT DOUBLE ALBUM
This double album features the original front cover artwork from Helen's 1962 and 1964 albums.
22nd APRIL
FILM: A LITTLE OF WHAT YOU FANCY
Check out your ITV schedules for this film- 03:40 MONDAY (LWT and MERIDIAN in this area)
This is a 1968 musical documentary tracing the history of The Music Hall, including Helen singing her favourites
9th APRIL
DESMOND CARRINGTON RADIO 2
Desmond played a track from Helen's new album SIMPLY SHAPIRO:Spring can really hang you up the most.
Track listing: 1.I let a song go out of my heart/Don't get around much anymore 2.Little Samba/Who will buy? 3.The nearness of you 4.Your feet's too big 5.Isn't this a lovely day 6. Straighten up and fly right 7. Spring can really hang you up the most 8. Buz me 9. Choo Choo Ch'boogie 10. Johnny Mercer Medley 11. Undecided 12. It don't mean a thing 13. Flying home
He also mentioned that he had been an HS Fan since he met her in the Thank Your Lucky Stars Television Studios in the early 1960's, and was very complimetary about her singing!!
IT'S TRAD DAD /PLAY IT COOL VIDEOS
Please note that these videos mentioned on page two of the Friends Club News Letter, are not commercial copies!
31st MARCH
RECORD COLLECTOR READERS POLL RESULT Helen moved up 89 places from 251 to 152 in the RECORD COLLECTOR TOP 500 COLLECTABLE ARTISTS POLL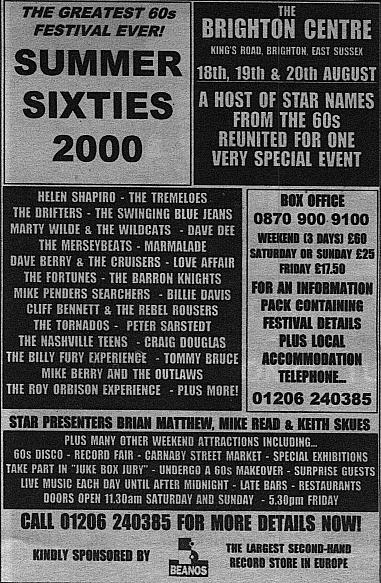 SUMMER 60s WEEKEND
Adverts for the SUMMER 60's 2000 Weekend at Brighton are now appearing in the press for August 18th, 19th and 20th....Now would be a good time to organise tickets and accomodation!!
44 870 900 9100 for tickets, 44 1206 240385 for Festival details, and an Accomodation Pack.
HMV CHOICE MAGAZINE
Helen was featured in the HMV Choice February/March Magazine featuring their 'Easy' range of albums
26th MARCH
BIG BAND SPECIAL -27th March and 3rd April
Futher investigation reveals that due to copyright restrictions, not every progamme on RADIO 2 is broadcast on 'The Net', so at the moment it is not certain whether the show will be broadcast, and I can't find anything on the BBC site listing Real Audio broadcasts.
Overseas fans might like to listen to the broadcasts 'on the hour' to verify what local time they need to tune in...

24th MARCH
BIG BAND SPECIAL -27th March and 3rd April
The first half hour programme recorded at the Wimbledon Theatre on 30thJanuary will be broadcast on the 27th March, and the half hour that includes Helen follows on the 3rd April.
Radio 2 can be heard on satellite, on Astra ch. no.12, (11.562 H GHZ) but unfortunately, only in Mono!

USA and rest of the World: Listen to RADIO 2 on the net!
REMEMBER you are 5-7 hours behind UK time, so be sure to check the local time you need to tune in!!
16th MARCH
OPEN HOUSE WITH GLORIA HUNNIFORD Helen was interviewed by Gloria and then sang It don't mean a thing if it ain't got that swing from her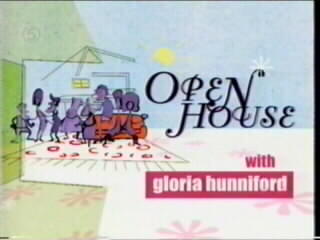 Follow the link (click on pic) for more details and pictures of the Show.
14th MARCH
CHANNEL 5 TELEVISION
Helen will be appearing on OPEN HOUSE WITH GLORIA HUNNIFORD on Thursday 16th March, Channel 5 Television 14:15.(Thank you Mark Smith)

13th MARCH
ALBUM RELEASES
Tops With Me/Helen Hits Out BGOCD474 is released today, and seems to be a rerelease of the EMI 1983 issue, available from

although they list the release date as next week...
HMV Album: The Helen Shapiro Collection HMV Easy 7243 5 25301 2
Track details now available:
Tracks are a mixture of singles, and album tracks from Helen In Nashville, Helen' s Sixteen, and Tops With Me
27th FEBRUARY
HMV ALBUM RELEASE
HMV have released a compilation album on their 'Easy' label- 'The Helen Shapiro Collection' containing 26 tracks. You can order in online @£4.99 plus £1 post &packing-supposed to be cheaper than their retail outlets Track details when I get them...

(Thank you Bryan Fraser)
19th FEBRUARY
AUCTION OF HELEN SHAPIRO MEMOROBELLIA
If you are interested in bidding for a postcard featuring HELEN and Cliff Richard, a signed CD, or some signed memorobilia, with the proceeds going to AfME Pregnet Network, then please follow this link, and go to page 2:

Auction ends 3RD MARCH

is a site co-run by Pauline Taylor for sufferers of M.E and Chronic Fatigue Syndrome
17th FEBRUARY
RECORDING/ALBUM NEWS
SIMPLY SHAPIRO
The new album 'Simply Shapiro' was recorded in the week ending 22nd January.The editing and artwork should be be completed soon.
Tracks include: Isn't this a lovely day(with Humphrey Lyttelton), The nearness of you, Spring can really hang you up the most, Mercer medley, Little Samba, Who will buy?, Undecided, My feet's too big, Flying home.
TOPS WITH ME/ HELEN HITS OUT BGOCD474
Release date for this album is March 13th. this is the CD version of the 1983 EMI issue.
16th FEBRUARY
MARGATE VENUE
Helen signed Gay Wiggins 'Icons Of Pop' book after the show.The book will be offered on auction to Fan Club Members shortly! JOIN HERE
A review of the evening will appear shortly.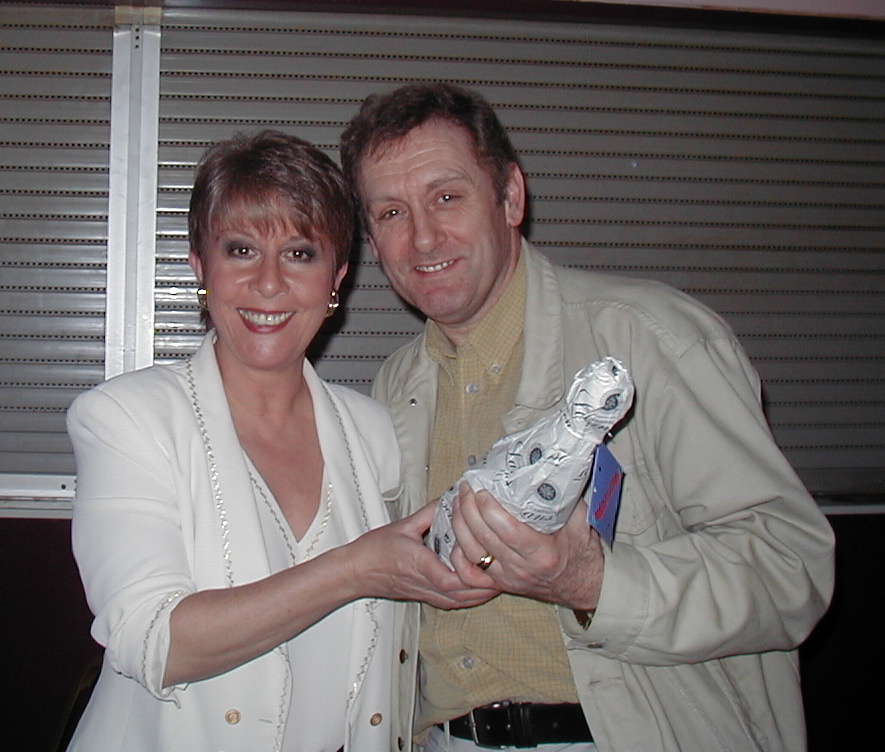 In the meantime check out some pics taken after the show! -->

6th FEBRUARY
ICE CREAM CARDS etc, FROM THE SIXTIES
Several interesting postcards and ice cream cards from the 60's, featuring Helen, are turning up on the net!
check them out..
2nd FEBRUARY
BIG BAND SPECIAL
A very nice evening at the Wimbledon Theatre on Sunday, I have never been to a recording of this show before. Two half hour shows are recorded together.
The show commenced with twenty minutes of Big Band and Tony Walthers singing quite impressively. This part of the evening will be broadcast on 27th MARCH.
Helen came onstage after the interval and launched into 'Straighten up and fly right', and 'Skylark'. Next she sang a Georgie Fame composition 'Little Samba', and then, a particular favourite of hers- 'Who will buy?'-from 'Oliver'.
After a musical interlude by the big band, she came back and sang, 'Love me or leave me', a Doris Day hit from 1955 (another influence on Helen '..from that moment on -(after seeing CALAMITY JANE) -I wanted to sing in films and stage musicals like Doris Day!'), and 'When a woman loves a man' The second half hour will be broadcast on Monday 3rd APRIL.
Unfortunately the last two songs will not be broadcast....
The above pic was taken after the show, unfortunately there was not enough time to take any more!
28th JANUARY
RECORD COLLECTOR FEBRUARY ISSUE
The Record Collector Reader's Poll has been bought forward a month this year, please make sure that you vote for Helen again this year!
CLOSING DATE IS 22nd FEBRUARY!!
25th JANUARY
DAILY TELEGRAPH ARTICLE
This article recently appeared in the Daily Telegraph!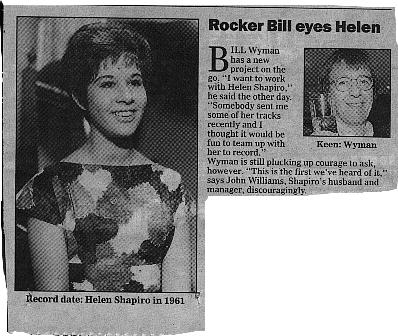 22nd JANUARY
SIMPLY SHAPIRO STUDIO SESSIONS
Helen started recording the new album on the 17th of January. Luckily, she has managed to avoid getting the Flu Bug and the session is on schedule, and going very well!
Tony Dowse and Gay were there, and Tony said that the recording of the Johnny Mercer Medley had the hairs on the back of his neck standing on end!!!
BBC BIG BAND WIMBLEDON THEATRE
Humph and Helen will be at the Wimbledon Theatre on Sunday 30th of January, to record a session for RADIO TWO, the progamme will be broadcast at a later date.
There are still a few tickets left if you hurry- 0208 540 0362
Perhaps I will see some of you there!!

Back to the top of the page &nbsp

June to December 1999 News

Index Page