THE HELEN SHAPIRO FAN CLUB
NEWS OCTOBER-DECEMBER 1998
USA FANS-several albums on the UK ALBUM PAGE can be ordered from CDNOW!
Sign the Guestbook View the Guestbook
16TH DECEMBER
GOSPEL ALBUM REPACKAGED!
The 'Enter Unto His Gates' album has a new cover- full details when I get a copy...
5TH DECEMBER
A memory of that PONTINS WEEKEND!.......
Kathy Stobart Pete Strange HELEN Humph
28TH NOVEMBER
PONTINS WEEKEND!
It was 8.15 on Saturday night, and the moment we were waiting for had arrived!
Helen came on stage to polite applause, and started with Silk Stockings, then launching into Why Don't You Do Right, Someone to Watch Over Me, How Long Has This Been Going On. The audience was getting very enthusiastic now. Helen then did Walkin' Back To Happiness, and announced that the next song, The Old Familiar Trouble had been specially written for her by Humph!
The set in Part Two was : Beale Street Blues, I must Tell Jesus, In My Solitude, Cho Cho Ch'boogie, It Don't Mean A Thing, If It Ain't got That Swing, closing with Caravan. By this time, of course, the audience was very enthusiastic, and Helen left the stage to rapturous applause!
The man who shared our table commented afterwards that he had been very sceptical about Helen's singing, as he had not heard her sing Jazz before but was now very impressed!
There were several fellow fans there- Christine Donald, and Peter Holmes to name two, and Helen and John joined us for 15 minutes or so, for a quick chat. Helen mentioned that she was hoping to include some jazz numbers when she is with her Own Band!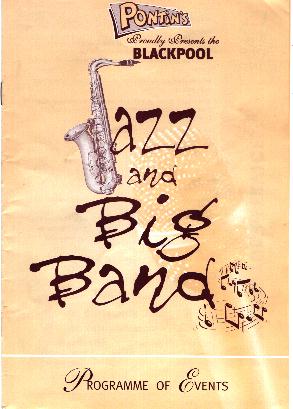 SEND HELEN A MESSAGE!
I will be seeing HELEN at Pontins soon, if you want a message passed on to her, please be sure to leave it in my GUEST BOOK before 18th NOVEMBER!!!
USA Fans please remember you are SIX HOURS BEHIND UK Time!!!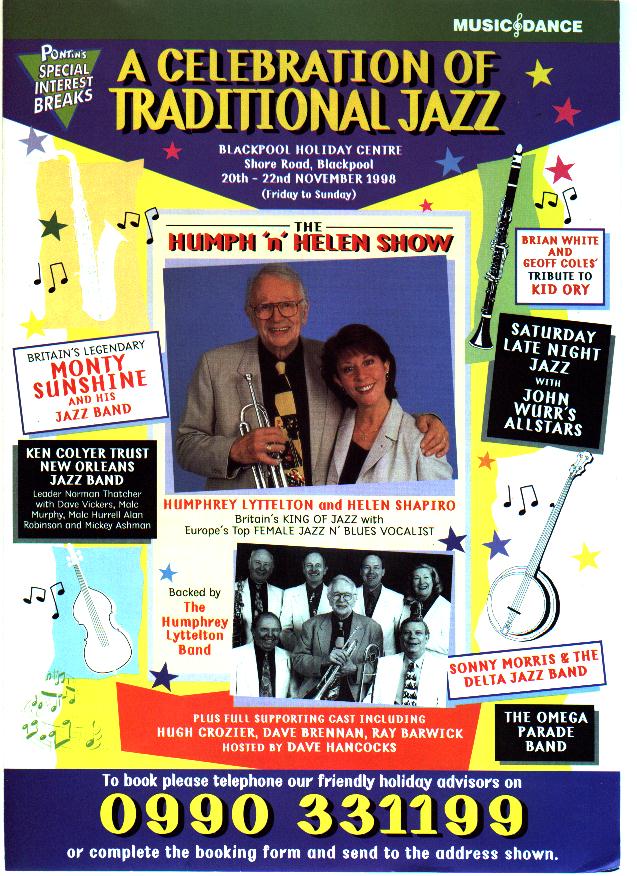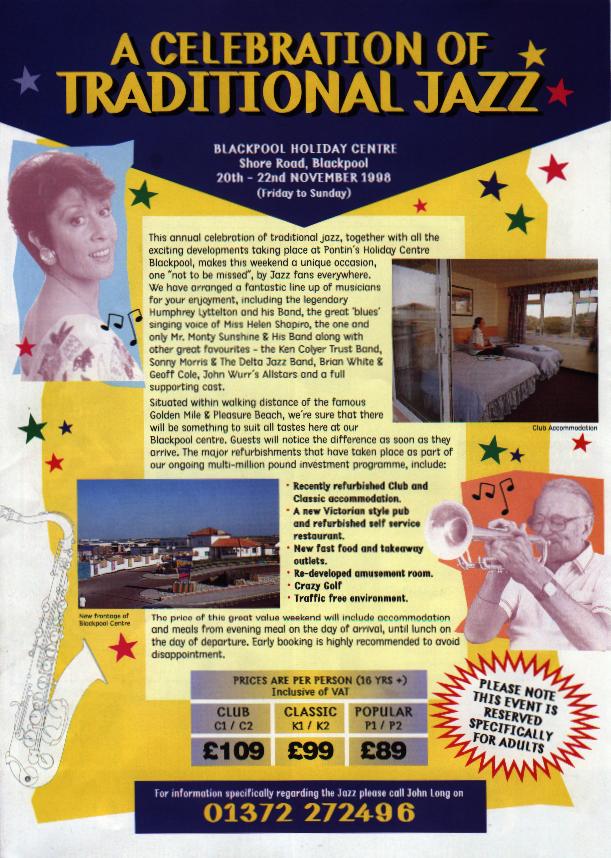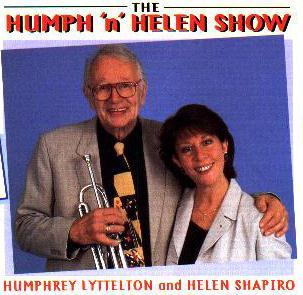 SAT 21st NOV HUMPH 'n' HELEN PONTINS HOLIDAY CENTRE Blackpool-Lytham St Annes-Pontin's Jazz Weekend 0990 331199
9th NOVEMBER

Helen was mentioned in this Daily Star article dated 29th October...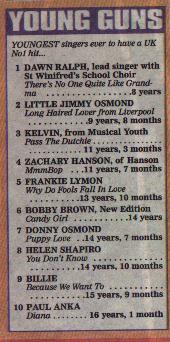 3rd NOVEMBER
JAZZ NOTES-RADIO 3
JAZZ NOTES is ongoing during the week at 23:30 on Radio 3, so keep tuning in to hear Helen !
31st OCTOBER
JAZZ NOTES-RADIO 3 !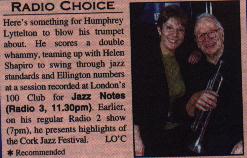 Article from Saturday's Daily Mail Television Magazine
Helen teams up with Humphrey Lyttelton to sing jazz standards on Radio 3, Monday 2nd November at 23:30!
4th OCTOBER
CHANGE OF E-MAIL ADRESS!
Please note the slight change of e-mail address.
This takes effect immediately, though any correspondence to the old e-mail address will still be received until 1st DECEMBER!
Andrew Earwaker
andrew@andrew-earwaker.co.uk