THE HELEN SHAPIRO FRIENDS CLUB
DISCOGRAPHY
The UK Albums 1991- 1995
$=STEREO *MONO
For more detail, double click on the images....
(91) The Best Of The EMI Years EMI CDMS 1398 (CD) TCEMS 1398 (cassette)
CDP 796448 2 AR 3
1.Tiptoe through the tulips 2.Don't treat me like a child 3.You don't know 4.Walkin' back to happiness 5.$The birth of the blues 6.Tell me what he said 7.$Little Miss lonely 8.$St.Louis blues 9.$A teenager in love 10.Let's talk about love 11.Keep away from other girls 12.$Lipstick on your collar 13.$Little devil 14.Queen for tonight 15.$I want to be happy 16.Look who it is 17.Woe is me 18.$All alone am I 19.Fever 20.$Walk on by
(92) Kadosh Manna Music 041(CD) AC041 (cassette)
MANNACD 041 382
1.How could I not love you 2.Since I found you 3.He is my defence 4.Can you hear us crying 5.The Blessing 6.Kadosh-The Lord He reigns 7.I will call 8.Messiah King 9.Betrayed(only the word of God) 10.Don't turn away 11.Messiah King (reprise) 12.PRAISE MEDLEY: Come let us go up; Enter His gates; I will talk to my brothers; Great and wonderful 13.O Holy One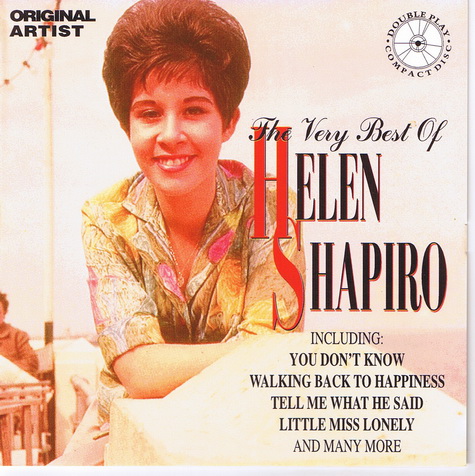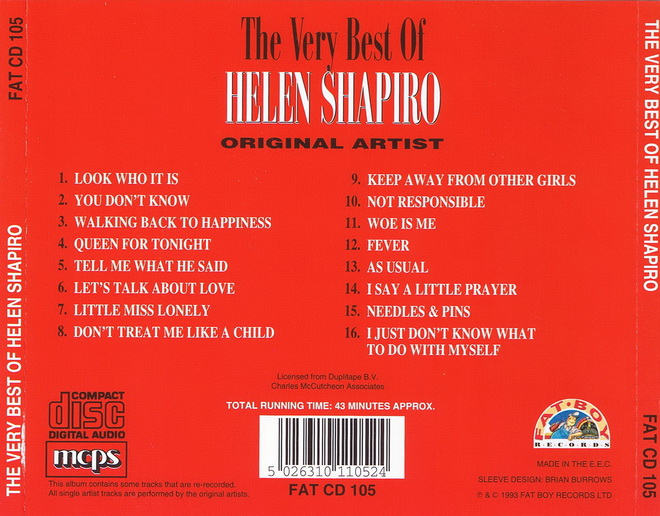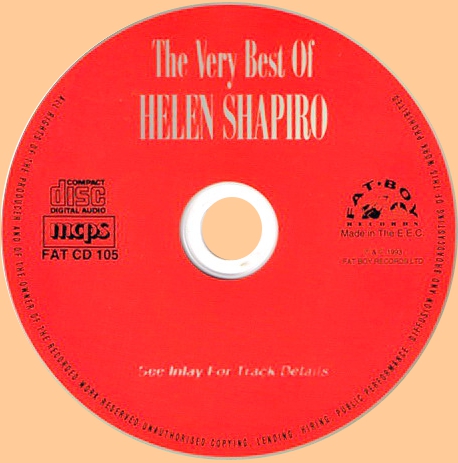 (93) The Very Best Of Helen Shapiro Fat Boy Records FAT CD 105 (rerecorded)
FATCD105 10256501 01
1.Look who it is 2.You don't know 3.Walkin 'back to happiness 4.Queen for tonight 5.Tell me what he said 6.Let's talk about love 7.Little Miss lonely 8.Don't treat me like a child 9.Keep away from other girls 10.Not responsible 11.Woe is me 12.Fever 13.As usual 14.I say a little prayer 15.Needle & pins 16.I just don't know what to do with myself
(94)The Very Best Of Helen Shapiro Fat Boy Records FAT CD 605 (rerecorded)
FATCD605 10312191 01
1.Look who it is 2.You don't know 3.Walkin 'back to happiness 4.Queen for tonight 5.Tell me what he said 6.Let's talk about love
(95) Nothing But The Best ICC Records ICCD13530(CD) ICC13520(cassette)
B6743 ICCD 13530/M1284
1.We being many (Duet with Cliff Richard) 2.Nothing but the best 3.Be thou my people 4.Water on stone 5.Jerusalem 6.king of Kings 7.Search me and know me 8.Father in heaven 9.Oh Lord, our Lord 10.You are my salvation 11.God will provide a lamb 12.Fall apon us now 13.There is someone
(95) The Uncollected Helen Shapiro-Sensational! RPM Records Ltd RPM151
(Reissued 19/05/03)
S SRT 95 CD 4206 01
1.A teenager sings the blues 2.Blues in the night 3.Are you lonesome tonight 4.Tearaway Johnny 5.Without your love 6.Aren't you the lucky one 7.Every one but the right one 8.It's alright with me 9.Lookin' for my heart 10.Basin Street blues 11.You must be readin' my mind 12.Til I hear the truth from you 13.Sensational 14.Easy come easy go 15.Remember me 16.The end of the world 17.It might as well rain until September 18.*Here in your. arms 19.*Only once 20.*Just a line 21.*Forget about the bad things 22.*Wait a little longer 23.*In my calendar 24.*Empty house
This excellent review of 'Sensational' was found on the 101 CD website:
Reviews
What we Think
This is a chance for both new and 'old' Shapiro fans to discover or re-discover the girl who, at 16, could sing the Blues in the Night with all the aplomb and subtle nuances of an Ella Fitzgerald classic. A Teenager sings the Blues, though somewhat of an anachronism today where teens are allowed to express their feelings of loss in any manner they choose - with no fear of censorship, or being pigeon-holed. However, on closer listening, we hear the angst of the teenager of the 60's, and the blues licks that come so easily to Shapiro, putting her in a much higher class than contemporaries such as Petula Clark and Sandie Shaw. The range of Shapiro's voice is still as staggeringly unbelievable today as it was when she shocked Norrie Paramor into signing her up on the strength of an 'a capella' rendition of St Louis Blues in his office, as a 14 year old. Her blues accomplishments on this eclectic compilation of songs culminates in the earthy Basin Street Blues. Her handling of cover songs is 'lovingly' and respectfully handled - as in Are you Lonesome Tonight, an identifiably Elvis Presley song. Only a 16 year old with the talent and versatility of Shapiro could touch the heartstrings of her listeners, and make this song her own. The other song which, to my mind, is covered and tinged with that lonesome sadness, not just of youth, is The End of the World. The songs from the Nashville sessions are tastfully constructed and very easy on the ear. Some of them are difficult to 'get out of the head' - such as Til I Hear the Truth from You and the title track, Sensational. I found myself humming these two songs on and off for weeks, and kept coming back to them. Here in your Arms, Just a Line and In my Calendar are later songs that have eluded me for many years, having lost contact for a while. Not surprisingly, they are up to the same standard that I've come to expect from Shapiro. The soft, sweet In my Calendaris one of the stand-outs for me, but how does one select just one? That is the beauty and talent of Shapiro - her voice gives class to all she sings. Even when there have been later recriminations about some of the songs she has sung over the years, being the consummate professional that she is - the listener cannot find any of her misgivings in any of the tracks on this highly reccommended compilation. Having listened to this one, you will understand how greatly undervalued Helen Shapiro has always been. Is Helen Shapiro a has-been at 16? The answer is right here on this CD - and it is a resounding - NO!!!
1962 | 1963 | 1964 | 1965 | 1974 | 1983 | 1985 | 1986 | 1987 | 1989 | 1990 | 1991 | 1992 | 1993 | 1994 |
1995 | 1996 | 1997 | 1998 |&nbsp 2000 |&nbsp 2002 |&nbsp 2003 |&nbsp 2005 |&nbsp 2006 |&nbsp 2010 |&nbsp 2011 |&nbsp 2013 |&nbsp 2015 |&nbsp 2016 |&nbsp 2020 |&nbsp
Most recent revision 4th October, 2012