HELEN SHAPIRO FRIENDS CLUB
NEW ZEALAND TOUR SEPTEMBER/OCTOBER 1962 PROGRAMME
WITH RAY WOOLFE, BOB PARISH, ROB .E. G, FRANKIE DAVIDSON, THE SHOW BAND, PETER POSA, YONY LAVELLI, ARTHUR WORSLEY.
Helen celebrating her 16th birthday at the HMV offices in Wellington.
September 27th/28th Wellington Town Hall 29th Christchurch Majestic
October 2nd Dunedin Town Hall 3rd/4th Auckland Town Hall 5th Palmerston W. Regent
Greymouth Star article
September 2012
My Dad and Helen Shapiro
By Donna Robertson
My Dad popped up in the Greymouth Star last week. In 1962, he was a 15-year-old Reefton schoolboy
and he won a competition to go to Wellington and celebrate Helen Shapiro's 16th birthday with her.
It is one of those family stories that has always intrigued me, after seeing some photos of Dad and a rather lofty Christchurch girl meeting Helen.
I asked him a few questions: Why did you want to meet Helen Shapiro? I won a newspaper competition.
You had to write and say why you would like to meet her and go to her 16th birthday. A girl from Christchurch and me were the winners.
Your first plane trip and your first trip to Wellington? How was that? Quite amazing, 15 years old never been on a plane before, DC3 Westport to Wellington.
I travelled from Reefton to Westport by bus and called on my cousin Barb. She immediately thought I had left home so phoned my Mum to verify my story.
How was Helen Shapiro's party? Lots of media and old people, I was 15. Plenty of food and cake, lots of photos. At this time Helen was no 1 in the UK and before the Beatles had hit the big time.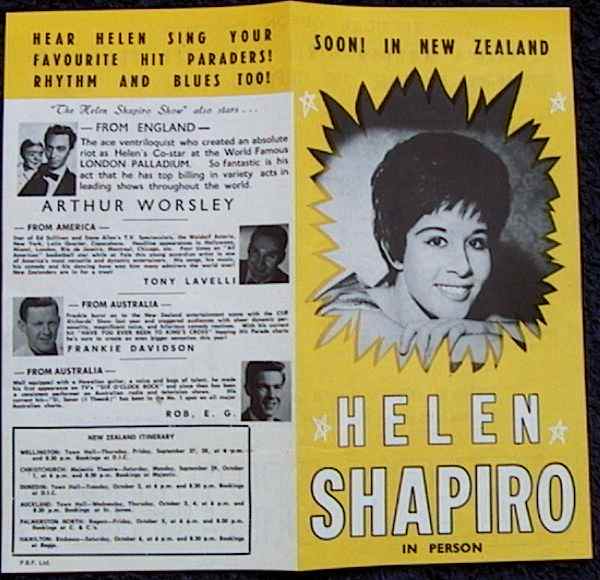 Back to Programme Index
Most recent revision 29th January 2021