Recorded live at Keswick Convention 1999, this superb video features Helen sharing her remarkable story in word and song, presenting a powerful gospel challenge to both Jew and Gentile alike. Running time: 100 minutes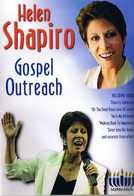 Song List:
There is Someone
Oh the Deep Deep Love of Jesus
He is My Defence
Walking Back to Happiness
and excerpts from others

£11.99 plus postage and packing

Click on the ICC logo below to order.
---
| | | |
| --- | --- | --- |
| | Desmond Carrington SUNDAYS 1300-1500 UK time Desmond Carrington plays popular music of all types, from light classical to rock and roll, swing band to operatic arias, all taken from his own collection of 80,000 78s, LPs and CDs. Enjoy the view from Scotland from the Webcam. | |
20TH JUNE
NORWEGIAN BROADCASTING COMPANY 18TH JULY BROADCAST
I received the following email from Kjell Haga, Avd.leder FN/NATO, Flyspesialisten Akersgt.:
Helen Shapiro will be featured in a miniportrait series called "Gammelpopens Venner " translated to " Friends Of Old Popmusic" and will be broadcast on Wednesday 18 July.
The radio station is NRK (Norwegian Broadcasting Company) It is the public radio station in Norway owned by the Norwegian Government, similar to The BBC.
The program can be heard in the county of Oppland which has a number of inhabitants of ca 200 000. ( In summer we can double the number as it is very popular as a summer vacation place).
I will speak a little about Helen as a very young and successful popsinger from 1962 - 1964, her film career in " It's Trad, Dad "and "Play It Cool", and what happend to her when she disappeared from the limelight..
I will mention her musical career in the seventies , her jazz influence in the eighties and her gospel connection in the nineties and forward until today.
As a conclusion of the portrait we will play her big hit " Walking back to happiness ".
19TH JUNE
RADIO THREE
Radio 3 listeners have the chance to vote for the individual they believe has contributed the most to jazz music, so get voting for Helen ....source: David Pearce
11TH JUNE
Talk 60's Magazine

A new Newsletter/magazine is now available
Talk 60's Magazine is a new magazine being launched which encompasses a gigs guide covering the 60's bands still touring the UK, together with features on anything and everything from the 60's, cars,scooters, sporting hero's, fashion, major news stories, film reviews,etc.
It is intended to grow the magazine from its humble beginnings to be the leading publication for the 60's scene. Its main purpose will be to produce a comprehensive gig guide, star interviews, and reviews of 60's music events. Early subcribers will be able to watch the magazine grow and have some influence on content. Further details from marianne Gibbs Editor. Email marianne@talk60s.com
The first issue features a profile of the Ivy League, and Helen has been interviewed for a future issue.
Printed in A4 format, a one year subscription costs £20 (six issues). For details how to subscribe
click here....
6TH JUNE
60's MUSIC MAGAZINE
I will be receiving a proof copy of a new 60's Magazine shortly, which includes an interview with Helen. More details soon...
25TH MAY
40TH ANNIVERSARY OFFICIAL PHOTOS
Official photographs from Helen's 40th Anniversary Celebration are now available. Check them out here..,.
9TH MAY
MAGPIE COVER PICTURE
A nice archive picture of Helen appears on the the front cover of issue 96.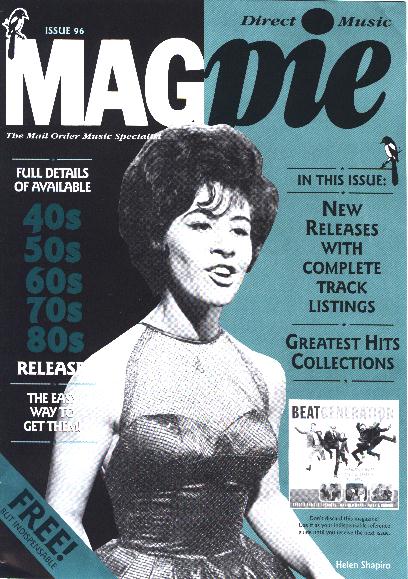 29TH APRIL
DESMOND CARRINGTON RADIO TWO
Desmond played a track from 'Simply Shapiro' -'Spring can really hang you up the most'. and commented that he did not understand why Television chose to ignore her tremendous talent.....
RECORD COLLECTOR POLL RESULTS
Helen came a disappointing number 401 in the poll this year.
8TH APRIL
JOHN SCHROEDER TRIBUTE TO HELEN
A transcript of John's speech is now available
here

Also pictures taken on the evening
here
1ST APRIL
RECORDING NEWS
Helen hopes to record a Gospel Album which will include some hymns, and also another one jazzwise. Hopefully they will be released towards the end of the year.
60's MUSIC MAGAZINE INTERVIEW
Look out for a new 60's Music Magazine shortly. The magazine will include an interview with Helen, more details when I have them.....
20TH MARCH
MY GUESTBOOK
The original guestbook has now been restored
11TH MARCH
MY GUESTBOOK
As there does not seem to be any progress with the repair of the original Guestbook, I have started a new one....
7TH MARCH
DAILY EXPRESS CORRESPONDENCE
David Hughes was over here from Canada for the 40th Anniversary Celebrations on February 10th:

I enclose herewith a letter that I wrote to the Express, Daily Mail and Mirror; so far the Express have replied - you have to note their comments

Subject: 40 years in Show business and no mention!

I have been watching the Express and other papers from the United Kingdom for some mention of the 40th Anniversary of Helen Shaprio in Show Business. It seems a sad reflection of the media today, that they will cover outlandish stories of popular music people but fail to mention the lasting power of some of the greats. February 10th, marked the 40th Anniversary of a young girl who took the country and the world by storm.

She has survived in a very competitive business. She is still packing the crowds into her shows not only in the UK but around the world. She is one of Britain's finest entertainers and yet there is no mention of this remarkable achievement.

I was fortunate enough to able to a attend a gala evening to mark this event along with other people from around the world, which was held at the Jarvis International Hotel in Ealing Common. I could not believe that even the Variety Club of Great Britain failed to mention that "the young lady" voted as the most promising new comer in 1961 was celebrating a remarkable anniversary. At a recent concert in the UK some of Helen's fan's attending were not even born when she broke on the music scene in 1961 - this shows the remarkable talent that Helen has that her music can transcend time and age.

Yours sincerely,

David P. Hughes,

Hope, British Columbia Canada

From: IXLetters

Hear, hear! It's a symptom of our new bosses not recognising anyone over 25. I despair. All our material comes from the Daily and Sunday Express. Kind regards, Steve Wood.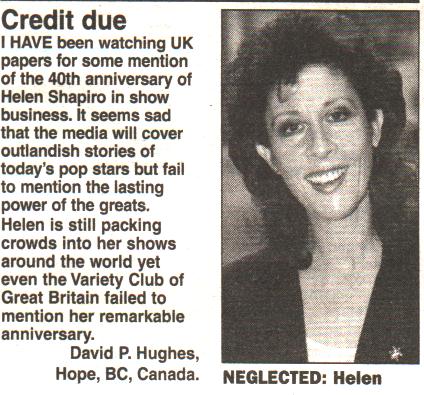 3RD MARCH
BURY ST EDMUNDS GIG
Rosemary Bradbrook sent the following email recently:
I saw Helen in Bury St. Edmunds. She was fantastic, as usual, though still battling with the after-effects of the 'flu that struck her down in January. Did you know that she had to cancel her gig in Edmonton on 3rd February, the first time she has had to cancel in 30 years? She was very gracious to everyone afterwards, signing autographs and posing for photos as she always does. The theatre was sold-out, with a long waiting-list for returns. She is as popular as ever, but I'm sure you don't need me to tell you that!
22ND FEBRUARY
RECORD COLLECTOR MARCH ISSUE
The March issue is now on sale, with an opportunity to vote for your five favourite artists, in their 2001 Poll
If you guess the Top 10 correctly you could win £500 of CDs or RECORDS
Helen moved up to number 152 last year so let's see what we can do to move her even further up!
HELEN IN HOLLAND
Last Monday Helen was a guest on a television show in Holland. The show was called 'The feeling of 1963.'
It is a music and quiz-show and was great fun to be there, singing, handclapping and shouting the right answers to the panel with a lot of noise, but we just dived into it. We were Tineke, Paula , Aart, Roger and friends and family.
Helen sang only one song, 'Queen for tonight' , because that was from 1963, so we had to miss Walking back to happiness. But she packed them all in!!!
When the show was over John took us to say hello to Helen and spend a few minutes together. John took some photographs of us all and then Helen had to go back on stage for a group-photograph. It was a very good evening and on the train back home we were like a couple of overaged teenagers.
15TH FEBRUARY
FORTIETH ANNIVERSARY DINNER
A very good time was had by all on the evening of the 10th.The foyer was filled to capacity as we started the evening off with a glass of Bucks Fizz, meeting old friends from previous get togethers, and meeting new ones.Helen and John arrived with the surprise guest JOHN SCHROEDER.
At 6.45 we were ushered into the conference room, checking the tables to find out where we were seated.. We started off with Trio of Melon for starters then on to Supreme of Chicken and Field Mushrooms in a herb Cream Sauce, New Potatos, and a panach of Seasoned vegetables.There was a choice of Strawberry Cheesecake or Cream Filled Profiterole,Red or White Wine.
Sandra Lambert provided the background music on the piano.
After we had finished the meal, the Master Of Ceremonies,Tony Dowse proposed Helen's health, and then John Schroeder gave a speech outlining his part in Helen's career, from writing (amongst many) Don't treat me like a child especially for her, also You don't know, and Walkin' back to happiness (both with Mike Hawker) before moving on to Oriole and Pye records as a record producer. Hopefully, a transcript of his speech will be available shortly...
Helen was presented with a crystal vase as a keepsake.
The evening continued with Helen taking the time to circulate amongst her 'friends' ,moving from table to table, chatting and signing autographs.
Several people had travelled from Canada (David Hughes) Holland (Tineke Vinju) Irish Republic (Hugh Cole) USA (David Thomas) so it was nice to put faces to the names from emails.
Photos will be posted shortly.
10TH FEBRUARY
RADIO TWO SOUNDS OF THE SIXTIES/DESMOND CARRINGTON
Brian Matthew played 'Don't treat me like a child' this morning and, Gaye and myself got a mention, to celebrate Helen's 40 years in Showbusiness- thank you Brian.
Check back soon for pictures from the Get Together this evening!
Be sure to listen to DESMOND CARRINGTON tomorrow (Sunday) at 13:00, when he will be playing 'You go to my head', and 'Walkin' back to happiness' - click on the Desmond Carrington link above.
RADIO TWO VOICE OF THE CENTURY

Radio Two is asking you to vote for your three VOICES OF THE (20th)CENTURY
so here is your opportunity to vote....
RECORD COLLECTOR FEBRUARY ISSUE
The magazine is on sale NOW for about three weeks so make sure you get your copy soon....Article here
MOVIE DATABASE
This website lists Helen's Cinema Films,-when you get there enter 'Helen Shapiro' in the search box. you also get the chance to give them a rating out of ten.
11TH JANUARY
BILL/BESS COLEMAN
If you emailed me recently about them, could you please get in touch again, as your original message got 'lost'
SOUNDS OF THE 60's-RADIO TWO- SATURDAYS 8A.M-10A.M
Please make sure that you email Brian Matthew
to remind him about Helen's 40 years in Showbusiness on 10th February, and play a request !!
TICKETS SOLD OUT AT EDMONTON VENUE
The Millfield Theatre Edmonton has sold out of tickets and has a waiting list for returns.(Source- Derek Lennard)
Do make sure that you book your tickets for other venues as early as possible, to avoid disappointment!
1ST JANUARY
RECORD COLLECTOR FEBRUARY ISSUE
Record Collector magazine will be featuring Helen in their FEBRUARY issue, celebrating her forty years in Showbusiness
There will also be an opportunity to vote for her in their Top 500 Collectable Artists- probably in the same issue- she came number 152 last year, so let's get her even higher this year!
CELEBRATION DINNER AND GET TOGETHER!
Helen will be celebrating forty years
in Showbusiness, on February 10th!!
To mark the occasion, the Friends Club has organised a special dinner (7.30pm) at an Ealing hotel in London on Saturday 10th February .
Of course Helen and John will be attending as special guests!
There are only a limited number of dinner tickets left, costing £50 each,
To order your ticket

Gay Wiggins
without delay!!!!
MIDI FILES
Hi Shapirofans, I've got this e-mail address from Andrew Earwaker, when I was surfing the net, searching for lyrics of some Helen Shapiro songs.
As I am an amateur midi-sequencer, I took the freedom to sequence 3 of her songs: Queen For Tonight, Walkin' Back To Happiness and Look Who It Is. Of course, I needed the exact words as well to add to the melody track and as I couldn't understand all the words she sings... so now everything has come to a good end, thanks to Andrew.
I'm not exactly a "fan" of Helen Shapiro though I love listening to her songs. Helen Shapiro, Cliff and The Shadows, and a few others have animated my interest in pop music when I was a young boy in the early 60s (I'm from '46). Untill The Beatles came to push these old legends away. (I love their music as well of course, I even sequenced some of their songs.) It is 5 years since now discovered midi music in the computer, and started to learn, all by myself, sequencing songs I love, with a very simple music program. When I now listen to these first sequences, I tell myself: "Throw that away, it's rubbish!" They're just terrible indeed.
At the moment I use the program Cakewalk 6 and I may say that I've made a good progress.
I did some CCR-songs, Tremeloes, Searchers, etc. and now I had come to these Helen Shapiro songs. I've sent you the midi-files in the attachement so you can listen for yourself, if you have the right midi program. Plug the sound card "out" in the ampli of a good stereo device (or a PA), because the speakers of a computer don't give the best results. Equalizer: bass: high, treble: high, medium tones: medium. If you can mute the melody track, you can use it in karaoke sessions. Enjoy!!! With musical greetings to all the Shapiro-fans, and to Helen as well (I wonder what she would think of these midis?) Freddy Van Lommel - Belgium - oldies lover

Back to the top of the page &nbsp
---

July to December 2000 News

Index Page
---
Copyright © 2001 Andrew Earwaker