THE HELEN SHAPIRO FAN CLUB
NEWS JANUARY TO JUNE 1998
9th JUNE
HELEN & HUMPH "SING SWING TOGETHER" ...AGAIN!
CLGCD034
Track 1.Shiny stockings 2.Sentimental journey 3.Someone to watch over me 4.Red beans & rice 5.Maybe/Java jive 6.All too soon 7.The old familiar trouble 8.Beale Street blues 9.Echoing the blues 10.Moving into spring 11.I must tell Jesus 12.Body & soul 13.Medley:On the sunny side of the street; I can't give you anything but love; Exactly like you/Take the 'A' train 14.How long has this been going on? 15.Caravan
4th JUNE
NEW ALBUMS!

HELEN & HUMPH cd: 'Sing, Swing together' again is now available! Tracks include: Shiny Stockings, Sentimental journey, Someone to watch over me, All to soon, Beale Street Blues, How long has this been going On?

More details when I get my copy from the FAN CLUB!

'By Request'CD KATYLIST 0002

This album inludes all the numbers heard on The Solid Silver 60's Tour and will not be available commercially- only through the FAN CLUB or on sale at venues!

Other tracks will be included: Straighten Up, Midnight,I got it bad, When a woman loves a man, Nobody does it like me, Just the two of us, and Can't buy me love.

This album should be available from SEPTEMBER!

The Abbey Road Web Site has been updated to include Helen's 'AT ABBEY ROAD'

Page link below:

2ND JUNE

I have received my Australian copy of :HELEN SHAPIRO - NOT RESPONSIBLE - THE VERY BEST OFfrom Revolution.

Basically, it is the same as the UK version of THE ESSENTIAL COLLECTION with track 1.Not responsible, and track 2.No trespassing being substituted for tracks 29 and 30 to allow for these tracks being bigger hits in Australia than here in the UK!

The sleeve notes have been copied fromTHE BEST OF THE EMI YEARS-John's notes, but somebody hasn't noticed that some of the tracks mentioned are not on this album!


Also track 1 has been recorded-very poorly from vynl-you can hear the turntable rumble if you listen carefully!

APRIL 30

I have received my Japanese Issue' of 'At Abbey Road'.. The Jewel case and booklet is identical to the UK issue, with an extra insert containing notes in Japanese, and the lyrics in English, also with an extra spine paper in Japanese, as is usual with Japanese releases.

The CD itself is identical apart from the Japanese Catologue number, and 'Mfd. by Toshiba EMI Ltd in Japan' instead of 'Made in the UK'

Revolution also sent details of an Australian issue 'Not Responsible-Very Best Of' @11.99, with 30 tracks -probably very similar to 'The Essential Collection', however Not responsible and No tresspassing are included- the single being quite a bigger hit in Australia than in the UK!

APRIL 13

Wheeltappers And Shunters Social Club is being shown on Satellite-GRANADA PLUS (Frequency 11.244H) at 21:30 (BST) weekdays.

Helen appeared on this show in the early 70', so fingers crossed we might be lucky.....

APRIL 08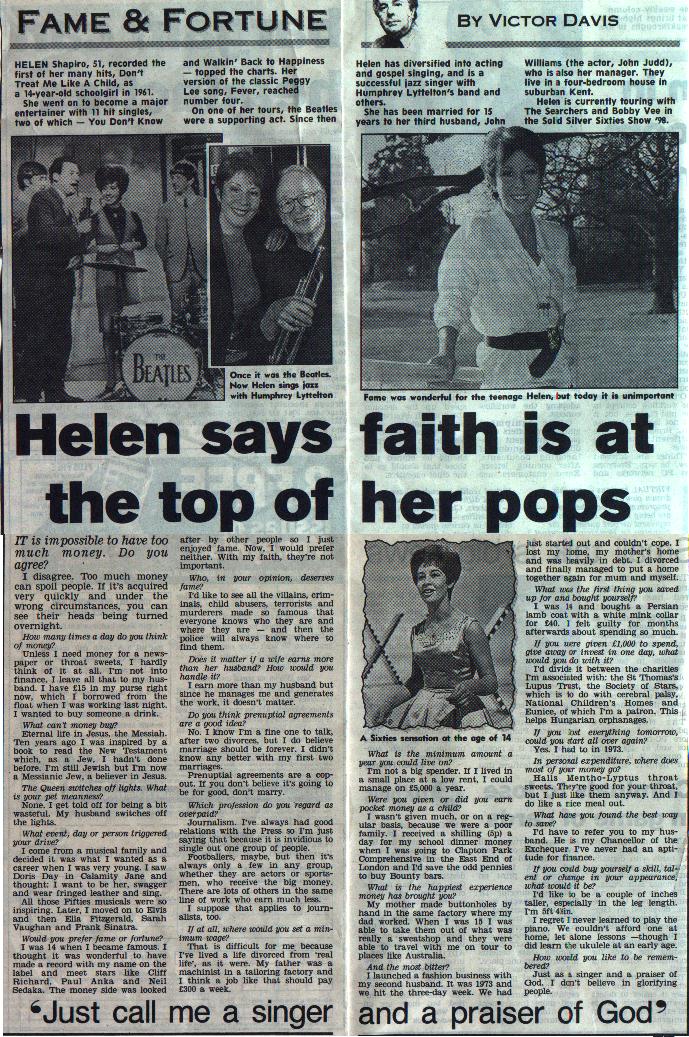 Article from Financial (Sunday) Mail 29th March 1998
APRIL 05
Checkout today's issue of THE NEWS OF THE WORLD for an opportunity to purchase a 'THOSE WERE THE DAYS' CD for £2.99.
Helen is included, singing Walkin' back to happiness!
APRIL 03
Further investigation by Derek Lennard has revealed that the 'Virgin Charts' is just a sales promotion, and not based on record sales....
APRIL 02
Helen's 'At Abbey Road'album has entered the Virgin Record Shops Charts!!!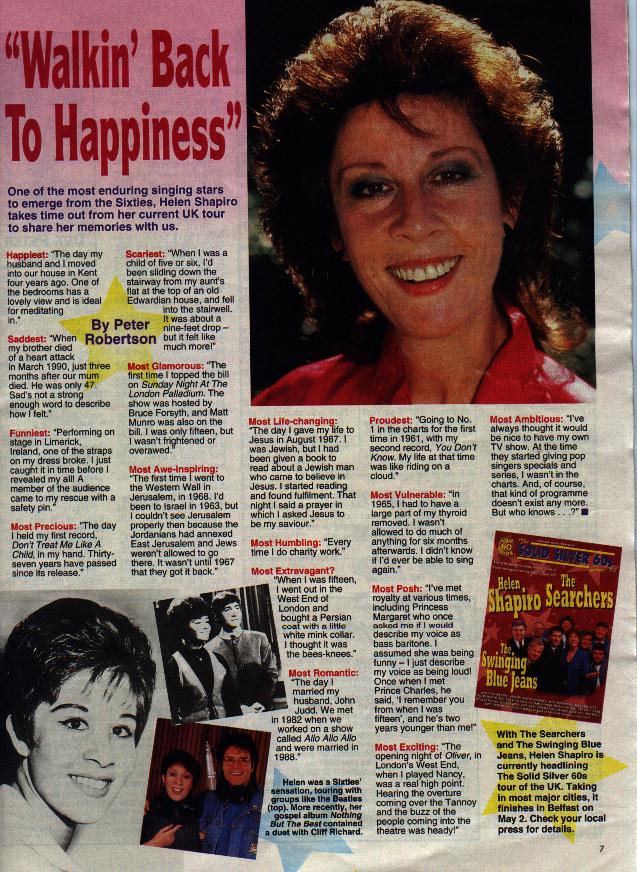 Article from MY WEEKLY(not Woman's Weekly!)Issue dated April 4th, 1998
MARCH 29
REMINDER!
Watch out for an article about HELEN in the WOMAN'S WEEKLY issue dated 2nd April!
A review of 'At Abbey Road' appears in the MAY issue of 'Q'
MARCH 15
A JAPANESE VERSION OF 'At Abbey Road' is available from Revolution Mail Order:
TOCP50430 @£16.99
PO Box 4545 MILTON KEYNES MK8 8ZS United Kingdom. FAX: tel: 44 1908 505507
MARCH 06
Watch out for an article about HELEN in the WOMAN'S WEEKLY issue dated 2nd April! MARCH 03
HELEN is mentioned in the MARCH issue of RECORD COLLECTOR, in a feature about the Abbey Road Studios, and there is a nice pic of her with Norrie Paramour!
You also have the opportunity to vote for Helen in their 1998 competition and poll -HELEN was number 365 in 1997!
PETULA CLARK fans have managed to get Pet from number 65(1995)to number 46(1996) to number 25(1997), so let's try and do the same for HELEN....
FEBRUARY 28
ABBEY ROAD STUDIOS have a web site, giving details of their 'At Abbey Road' releases!
As yet there is no mention of HELEN, but hopefully, when it is updated, there will be a feature about her!
Page link below:
TWO new albums available in UK:
(23/02/98) Helen Shapiro At Abbey Road EMI 7243 4 93452 2 5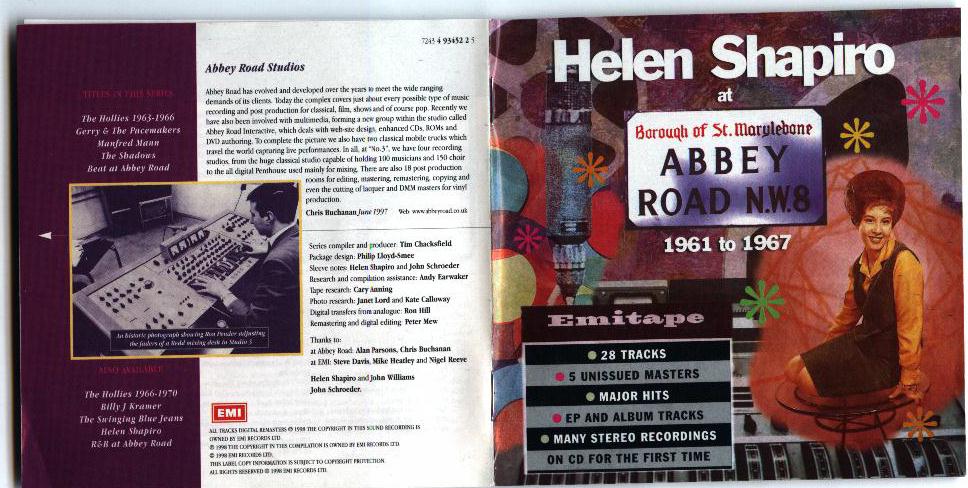 Matrix 493452 2 21:2:
Track 1.*Don't treat me like a child 2.*You don't know 3.Walkin' back to happiness (Take 2+ Studio conversation)4.Walkin' back to happiness (take 13 master)5.Kiss 'n' run 6.I want to be happy 7.*Let's talk about love 8.Tell me what he said 9.*Little Miss lonely 10.*A teenager sings the blues 11.I can't say no to your kiss (Take 4 B/D + Take 5 +studio conversation)12.Sometime yesterday 13.I don't care 14.*Basin Street Blues 15.*Every one but the right one 16.*Keep away from other girls 17.A dozen other boys (Take 4 B/D + Take 5 + Studio conversation)18.Queen for tonight 19.Time and time again 20.*Look who it is 21.*Fever 22.*Look over your shoulder 23.It's in his kiss 24.I wish I'd never loved you 25.Shop around 26.*Keep your hands off my baby 27.*You're my remedy 28*I'm going out (the same way I came in)
(*=mono)
(97) Enter Unto His Gates ICC ICCD21830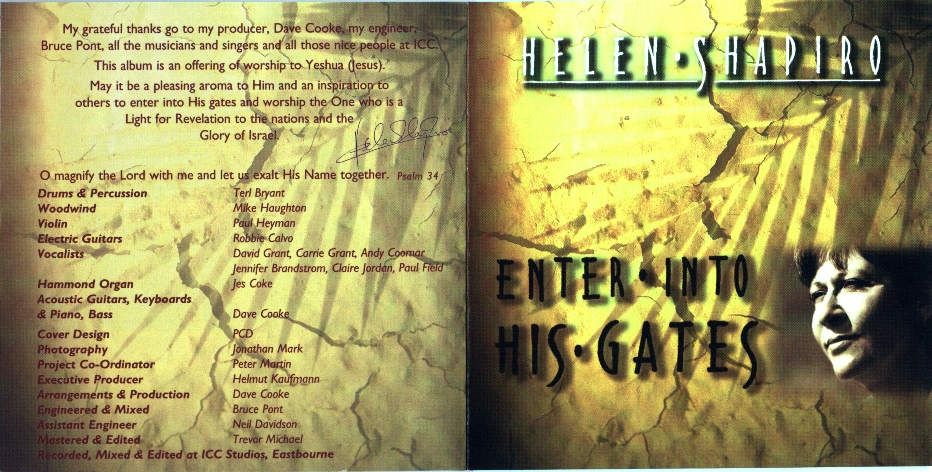 Matrix A0100232709-0101 13 A1

Track 1.Medley-Enter unto his gates/Halleluyah(Psalm 150) 2.Let us exalt His name together 3.O give thanks 4.Medley-Blessed be the Lord God/Who is like the Lord 5.Medley-Ha shiveinu/Seh ha elohim 6.O the deep deep love of yeshua 7.Medley-O praise The Lord/Behold God is my salvation 8.Medley-You're my glory/Adon ha-kav-od/Baruch ha ba b'shem adonai/May all who live believe in you 9.And can it be

UK ONLY-Both albums can be purchased from John when you go to a Solid Silver 60's venue!

16TH FEBRUARY
The following article appeared in Monday's Daily Express:

Singer Helen Shapiro,who was to the early Sixties what The Spice Girls are to the Nineties, has revealed that she nursed a whopping crush on John Lennon. "I really fell for him. He always made me a cup of tea and a lot of fuss," she recalls. "But alas, as I was 15 at the time, John always regarded me as his kid sister"

As a schoolgirl star enjoying number one hits such as Walkin' Back To Happiness, she toured with the Beatles in their early days. "Yes, they supported me on my tour. We all travelled by bus and used to sing Beach Boys songs together, with John taking the lead."

Her memories will be further prompted when she attends a party tonight at London's Abbey Road studios to launch a compilation albums of recordings made there in the Sixties. "I recorded in the No.2 studio while the Beatles were next door with producer George Martin," she says.

14th FEBRUARY

HELEN IS ON THE DON MACLEAN SHOW- RADIO TWO 7a.m SUNDAY 15TH FEBRUARY!

8TH FEBRUARY

Helen will be featured in BBC RADIO 2's "The Story of the Dansette Record Player" on Tuesday 17th February.

Other artists featured are : Marty Wilde, Brian Bennett, Clem Cattini....

31st JANUARY

THE ABBEY ROAD CD

There will be a Press launch for EMI's "Abbey Road" series which features HELEN

The launch on 16th February will be at the famous Abbey Road Studios, and HELEN will be among those providing the entertainment!

RELEASE DATE FOR HELEN SHAPIRO ALBUM AT ABBEY ROAD is 23rd FEBRUARY!

11th JANUARY

Checkout GEORGE MELLY RADIO TWO Tuesday 21:00 George will be mentioning Helen!!!

29th DECEMBER

Jan Grefstad, a fan in New Zealand tells me that there have been several radio reports there, of Helens dispute with Channel Four

12th DECEMBER

HELEN MAKES FRONT PAGE OF "THE STAGE"

Helen's dispute with C4 makes front page headlines in "The Stage" dated 11/12/97, also an article in THE GUARDIAN

11th DECEMBER

The following article appeared on CEEFAX page 566!

SHAPIRO SET TO SUE OVER ONE HIT SLUR Helen shapiro may sue C4 for libel after being included in publicity for a programme about "one hit wonders"

The singer, 51, is livid at notes- since changed- for C4's "Brit Girls: One Hit Wonders" describing her shining "brightly but briefly" in the Sixties.

The star had No 1s with You don't Know and Walkin' Back To Happiness in 1961 plus a string of other chart hits and currently has five albumss on release.

Shapiro is set for a 50-date UK tour.

4th DECEMBER

John says that he has been in touch with Granada and CH4 about calling Helen a 'Has Been' and they have agreed to rename the episode which includes Helen as "Girls On Top". Helen and John have also complained to Equity, and they have become involved!

27th NOVEMBER

A MESSAGE TO ALL HELEN SHAPIRO FANS.

One of the frustrations of being a Helen Shapiro fan over the years has been that the media have overlooked her tremendous talent.

For many of us I'm sure a series highlighting the talent of British female singers of the 1960s appeared to give hope that this situation could be remedied.

Unfortunately it is clear from the publicity surrounding the series that this is not the case.

As you probably know Helen appears in the last programme of the series with Millie,Twinkle and PP Arnold and the programme is devoted to "the fleeting fame of the one hit wonders".

Various newspapers and magazines are repeating in their programme previews that Helen is a 1 hit wonder or "never quite made it".

Personally,I'm not prepared to put up with this codswallop!

We need to point out to Channel4 that

1.Helen is not a 1 hit wonder-she had 11 hits between 1961 and 1964.

2.In terms of chart consistency Helen had 119 weeks in the charts,while Twinkle had 20 weeks,Millie 33 weeks,and PP Arnold 27 weeks. There is in short no realistic comparison between the impact of Helen and the others,who had 3 Top 50 hits each.

3.The most interesting point about Helen is the way her career has blossomed since the 60s which cannot be said of the vast majority of 60s stars.

LET'S TELL CHANNEL 4 WHAT WE THINK ABOUT THE CRUDE STEREOTYPE VIEW OF HELEN BEFORE THIS PUBLICITY GOES ANY FURTHER.

ONE WAY YOU CAN DO THIS IS ACCESSING THE "REACH4" SITE ON THE INTERNET.

http://www.channel4.com/

then click on REACH4!

then scroll down 'topics' to Brit girls

You'll find Brit Girls listed under existing topics and you can add your comments to mine and Andy's.

Alternatively you can write to Channel 4,

Viewers Enquiries,

124 Horseferry Road

London SW1P 2TX.

Let's show them how determined we are to tell the world about Helen's amazing talents!

DEREK LENNARD.26.11.97
Article from TIME OUT dated November 19-26 1997
Part of article reads:
"The series (BRIT GIRLS) continues with programs on Sandy Shaw,Marianne Faithful and Lulu, and ends with a programme on those who never quite made it, like Millie Small (who recorded 'My Boy Lollipop'), Twinkle, and Helen Shapiro, who was supported by The Beatles on her first tour before being written off as a has-been at 16."
Why not tell TIME OUT what you think about Helen:
Last Word
Time Out
251 Tottenham Court road
LONDON
W1P 0AB
21st NOVEMBER
Check out CHANNEL FOUR over the coming weeks for "BRIT GIRLS"-Saturdays 21:00 -hopefully HELEN might be mentioned..???
NEWS PAGE has been amended 21/11/97
Helen Helen and Michael Winner circa 1962
Article from THE NEWS OF THE WORLD dated 16/11/97
BACK TO CURRENT NEWS
BACK TO INDEX
17 November 1997