27TH DECEMBER
CHOICE MAGAZINE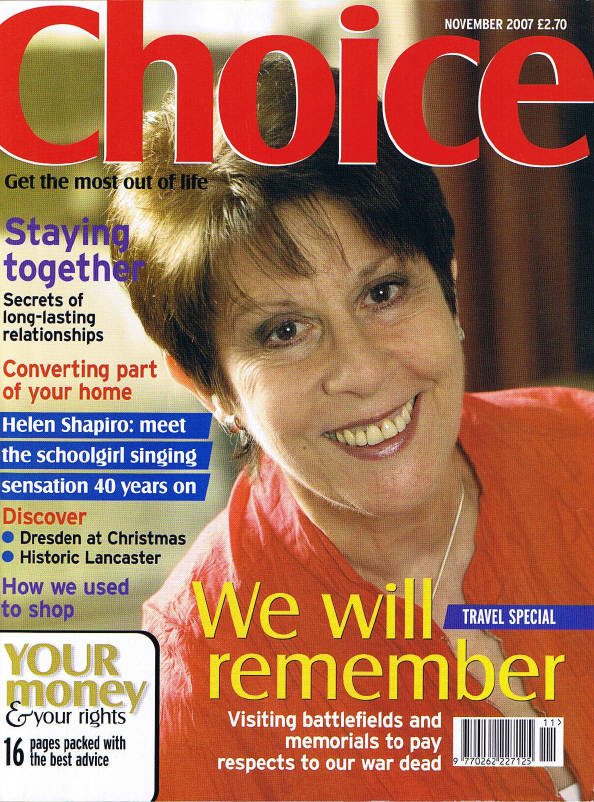 Helen was featured on the cover of the November issue of Choice Magazine, with a three page article inside...
2ND DECEMBER
SCHROEDER HAWKER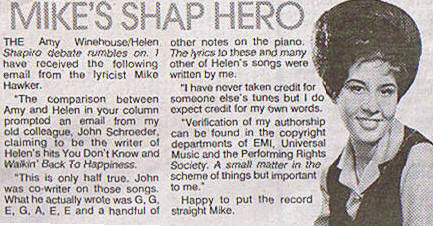 Quite a week for them, being mentioned in the Kelvin Mackenzie Column (THE SUN)
The icing on the cake must have been when Letitia Dean and her partner danced to 'Walkin' Back To Happiness', on 'Strictly come Dancing' tonight, and Satuday.
18TH NOVEMBER
SUN NEWSPAPER ARTICLE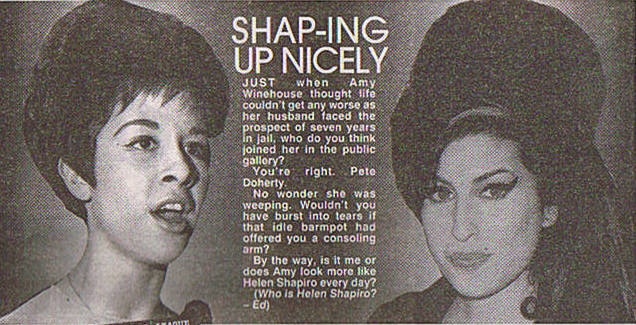 This article appeared in the Sun newspaper during the week...
26TH AUGUST
NEWSPAPER ARTICLES
Helen has appeared in two newspaper articles recently: THE DAILY EXPRESS, and AGE CONCERN
24TH APRIL
RADIO SONNENSCHEIN 'Stunde der Stars'
The transmission time is GMT +1 hour...(11:15 UK)
23RD APRIL
RADIO SONNENSCHEIN 'Stunde der Stars'
DJ Gerti will be playing 20 of Helen's songs on her 'Hour of the Stars' which starts tomorrow at 12:15 PM - the programme is broadcast in German, and you have the opportunity to log on and chat...
Sorry, but I do not have a clue whether the broadcast time given is UK, German, or Australian time...
16TH MARCH
NORDIC WALKING- AGE CONCERN
Helen will be launching 'Nordic Walking' - for Age Concern (Wales), sometime in May.
The initiative aims to get the over 50's to boost their fitness by walking, and involves using a pole in each hand to help them stride out.
Check out the 'Weekly News' article here...
5TH FEBRUARY
"SIXTY SIX" CINEMA FILM
Brian Field emailed to let me know that Helen sings "Walking Back to Happiness" during the closing credits of "Sixty Six", a film about a young jewish boy having his bar mitzvah on the 30th July, 1966, the day when England beat Germany in the World Cup.
He says that it is a very funny film with Helena Bonham Carter, Eddie Marsan, Catherine Tate and many others and was made by Working Title, who previously had a big success with "Notting Hill" and "About a Boy"
2ND JANUARY
HELEN ON
Several clips from various television shows appear on the YouTube Website...
Helen can be seen singing: 'Walkin' back'; 'Look who it is'; 'I don't care'; 'It might as well rain until September'; -check out the clips here...

Back to the top of the page &nbsp