HELEN SHAPIRO DISCOGRAPHY
The Overseas Singles Australia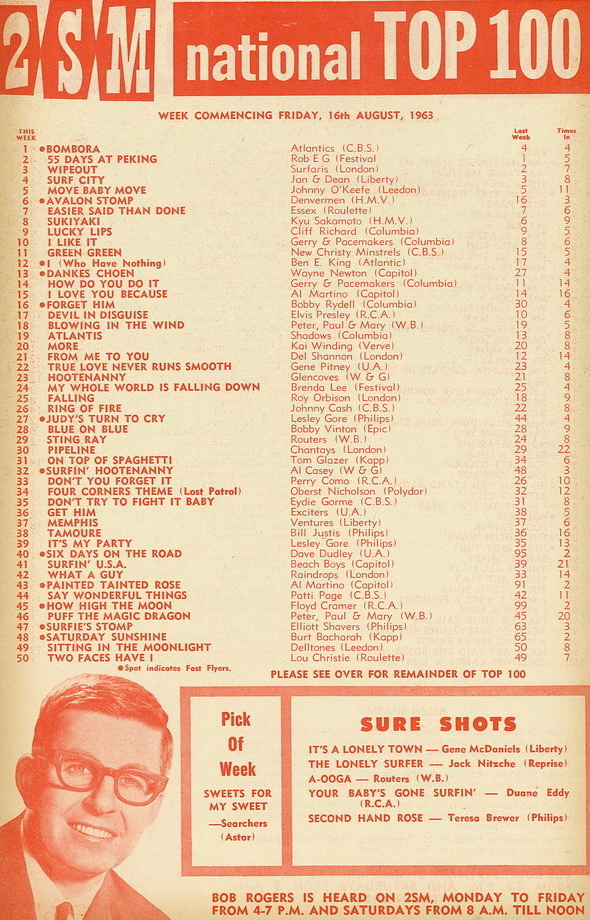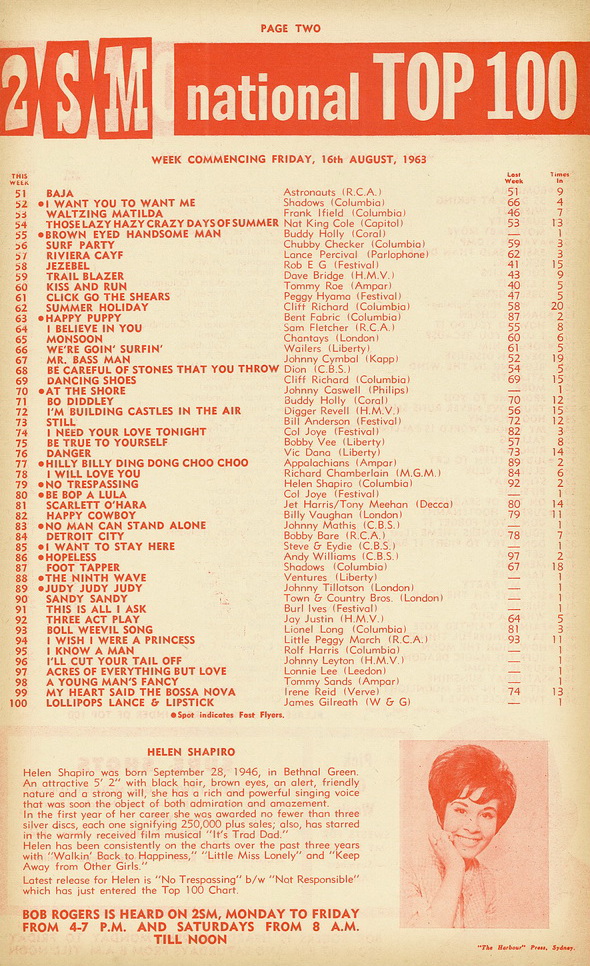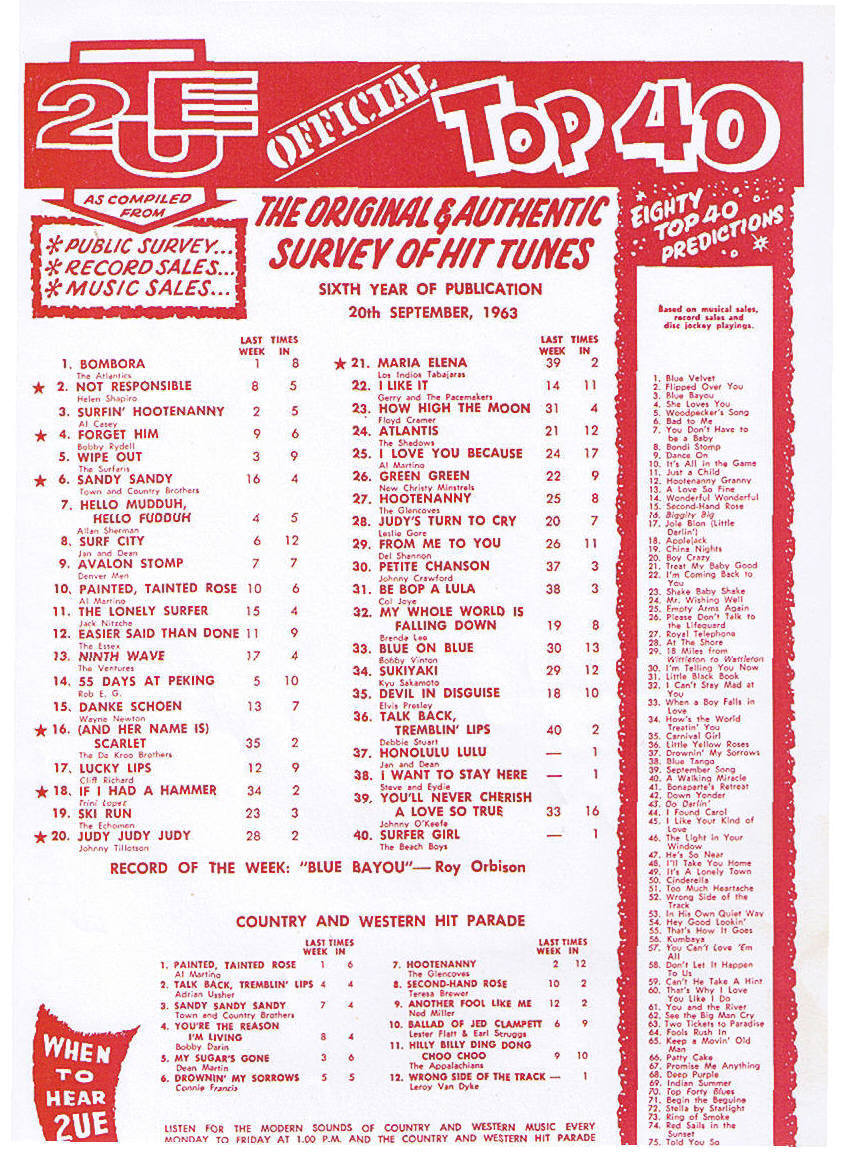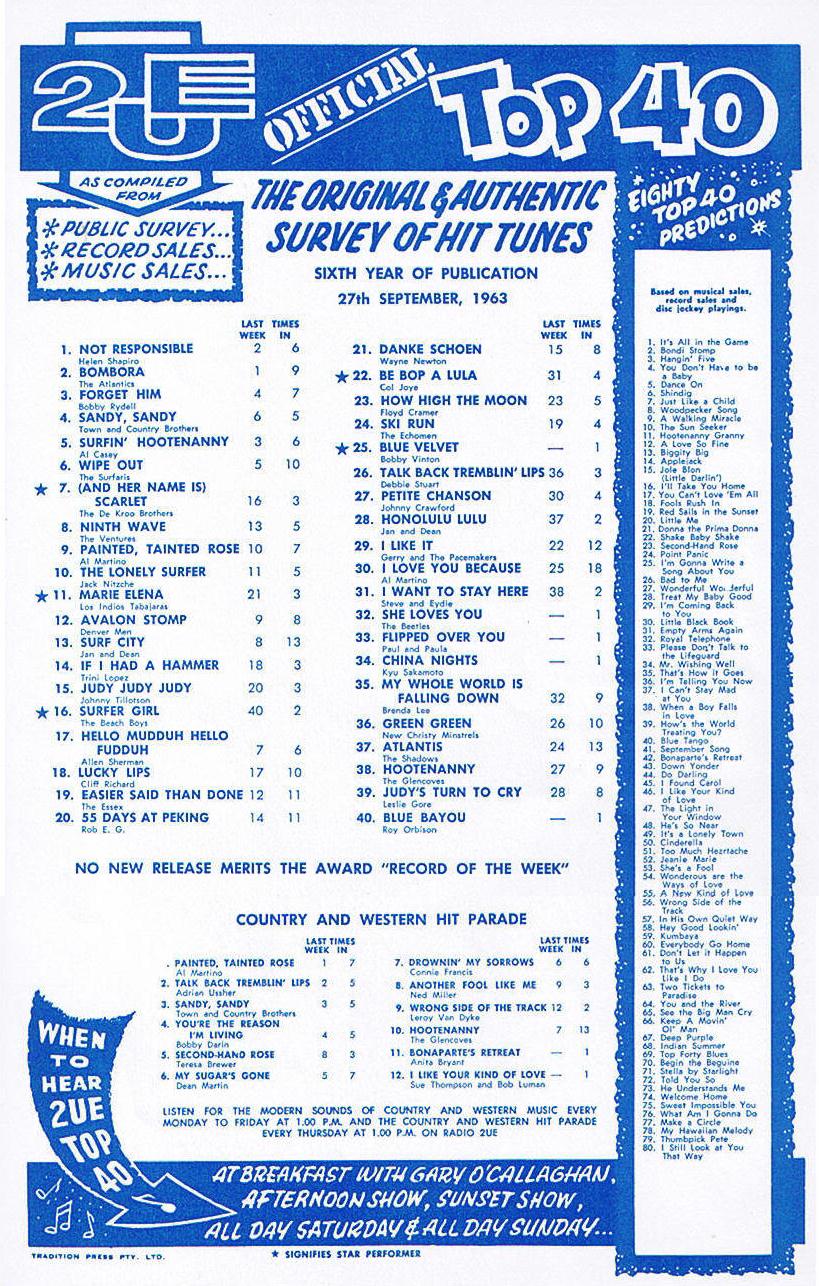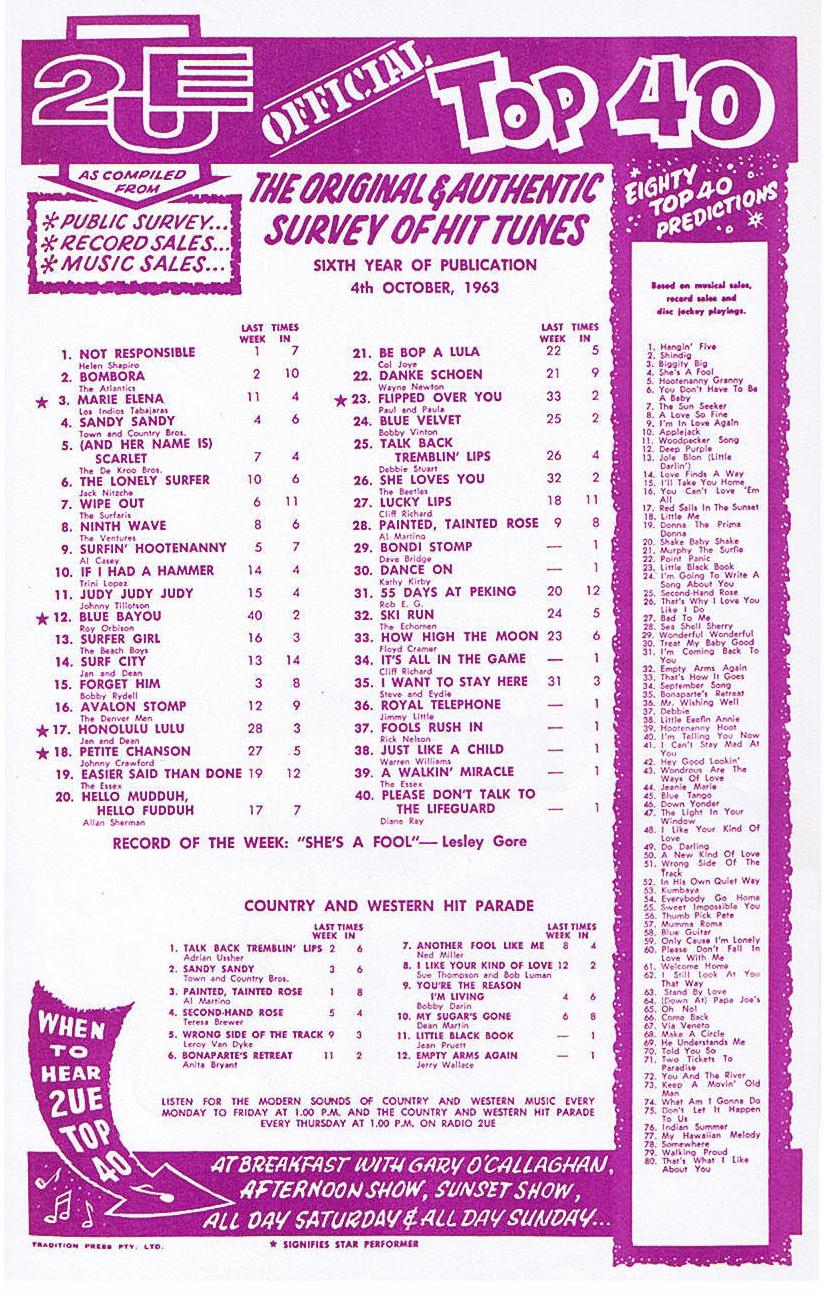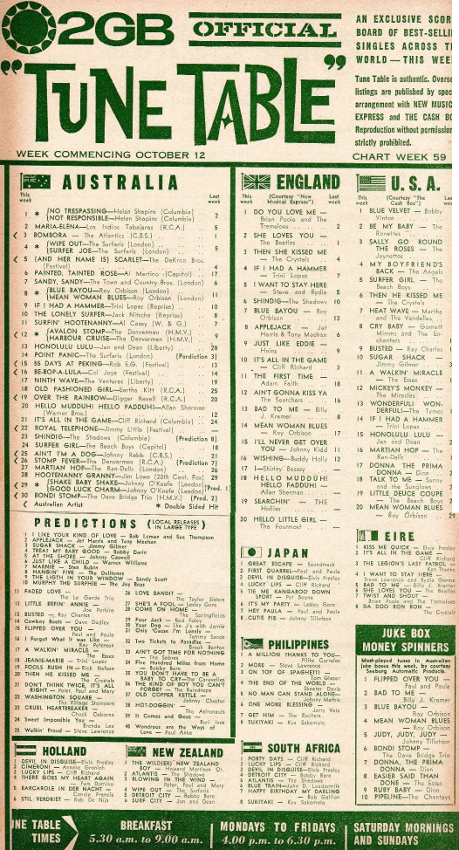 .
National Top 100 hit list 1963 in Sydney,from
radio station 2SM which in those days was a big
time AM radio station, with Bob Rogers.*
Click on an image for more detail
Sleeves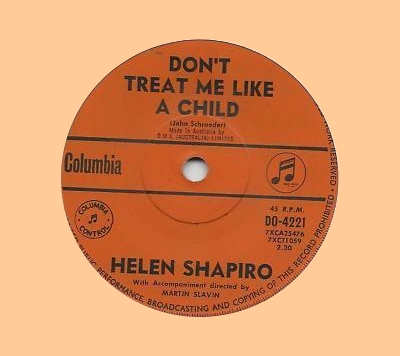 DO 4221
7XCA 25476/7XCT 1059 Don't treat me like a child
When I'm with you
DO 4228
7XCA 25584/7XCT 1087 You Don't know
7XCA 25583/7XCT 1088 Marvellous lie
DO 4237
7XCA 25672/7XCT 1152 Walkin' back to happiness
7XCA 256??/7XCT 1153 Kiss 'n ' run
DO 4269
7XCA25842/7XCT 1223 Tell me what he said
7XCA 25581/7XCT 1224 I apologise
DO 4284
7XCA 25861/7XCT 1260 Let's talk about love
7XCA25862/7XCT 1261 Sometime yesterday
(1962) DO 4301
7XCA26074/7XCT1326 Little Miss lonely
7XCA 26031/7XCT 1327 I Don't care
(1962) DO 4318
7XCA 26161/7XCT 1388 Keep away from other girls
7XCA 26022 7XCT 1389 Cry my heart out
(1963) DO 4351
7XCA 26225 Queen for tonight
7XCA 26226 Daddy couldn't get me one of those
(1963) DO 4368
7XCA 26423/7XCT 1539 Woe is me
7XCA 26424/7XCT 1540 I walked right in
(1963) DO 4398
7XCA 27034/7XCT 1630 Not responsible
7XCA 27035/7XCT 1631 No trespassing
(1964) DO 4418
7ZCA 27172/7XCT 1692 Look who it is
7XCA 27173/7XCT 1693 Walking in my dreams
(1964) DO 4445
7XCA 27245/7XCT 1752 Fever
7XCA 27246/7XCT 1753 Old father time
(1964) DO 4474
7XCA 27289/7XCT 1840 Look over your shoulder
7XCA 27292/7XCT 1841 You won't come home
AP 1550
AP-1550-A You'll get me loving you
AP-1550-B Silly boy
AP 1605
AP-1605-A Today has been cancelled
AP-1605-B Face the music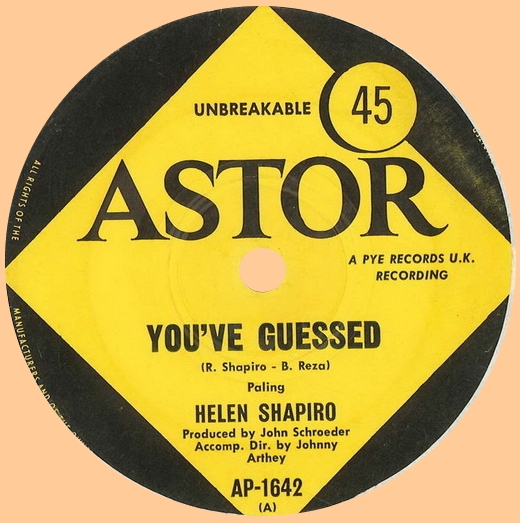 Many thanks to Stephen Crump
AP-1642-A You've guessed
AP-1642-B Take me for a while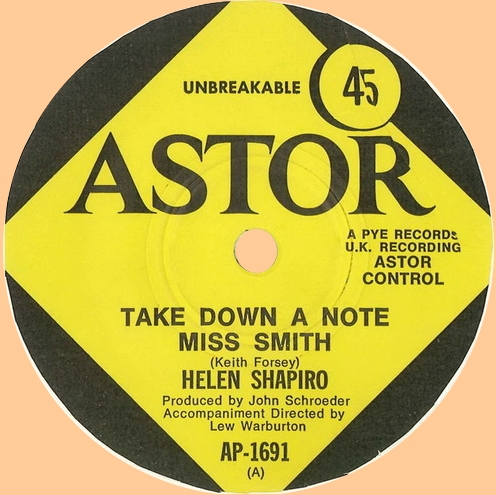 Many thanks to Stephen Crump
AP-1691-A Take down a note Miss Smith
AP-1691-B Couldn't you see
AP 1713
AP-1713-A Waiting on the shores of nowhere
AP-1713-B A glass of wine
(198?) BRIT 22
reissue-same lable as Uk EPs (1963 onwards)
BRIT 22-A Don't treat me like a child
BRIT 22-B Walking back to happiness
(198?) AUS7
reissue-same lable as Uk EPs (1963 onwards)
7XCA 27034 A Not responsible
7XCA 27035 B No trespassing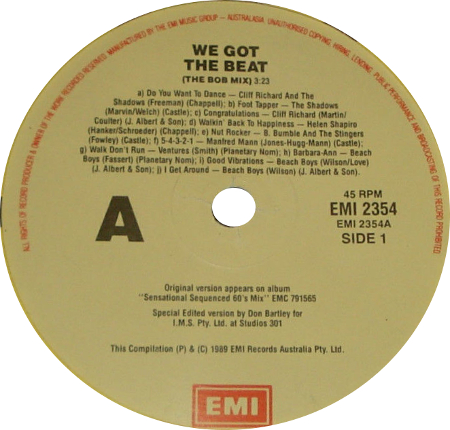 (1999) EMI 2354 We got the beat (sequenced mix)
d Walkin' back to happiness
*Many thanks Warren Reed
Trivia:
Not responsible: A double A-side which made #1 in Australia, but never charted in the UK.
Both tracks charted seperately in Brisbane..."No Trespassing" # 7, and "Not Responsible" # 4.
They shared chart placings in Sydney (# 2), Melbourne (# 1) and Adelaide (# 1).
In Perth, only "Not Responsible" charted...# 1 for four weeks. Source: theflipsidedkid
BRIT 22 and AUS7 were issued in Australia in the 1980s by Sydney Oldies store, DISCONTINUED RECORDS.
The owner, Peter Atkins, sourced the best-available masters, and had the records pressed by EMI New Zealand, which is why the labels say 'Made in N.Z.', but were sold mainly through his store in Sydney. Source: GOLDMINE MUSIC
ARGENTINA | AUSTRALIA | BARBADOS | BELGIUM | BRAZIL | CANADA | CHILE | DENMARK | EIRE | FINLAND | FRANCE | GERMANY | GREECE | INDIA | IRAN | ITALY | JAPAN | NETHERLANDS | NEW ZEALAND | NIGERIA | NORWAY | PAKISTAN | PHILIPPINES | POLAND | RHODESIA | SOUTH AFRICA | SPAIN | SWEDEN | TRINIDAD | TURKEY | USA |
The links on this page will be more up to date than the individual pages..

Most recent revision 9th March 2020