HELEN SHAPIRO DISCOGRAPHY
The Overseas Singles Canada
Sleeves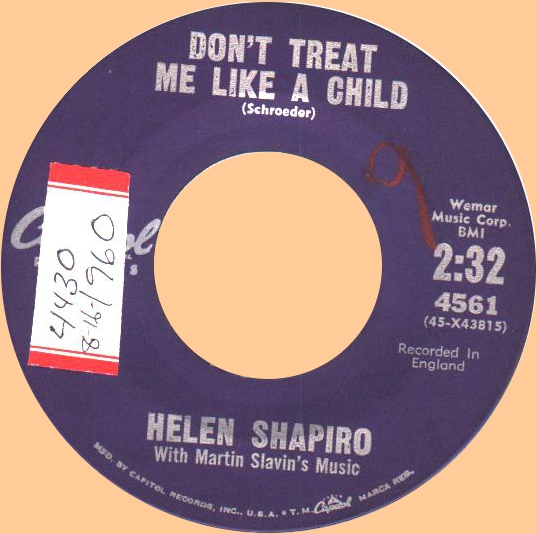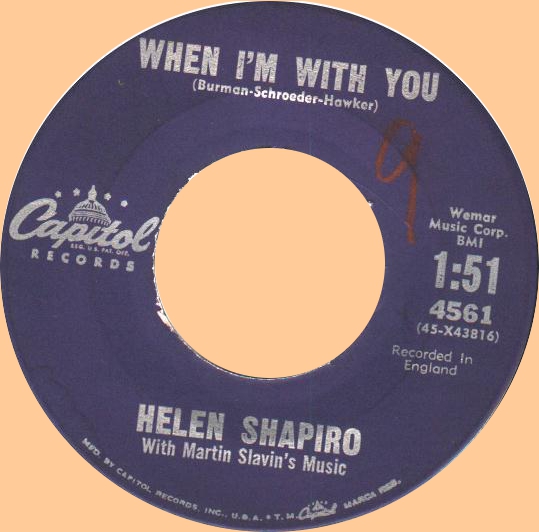 (1961) 4561
45-X-43815-D1 Don't Treat Me Like A Child
45-X-43816-D1 When I'm With You
(1962) 4627
X43967-D1 You don't know
X43966-D1 Marvelous lie
(1961) 4662
45-X44004-D3" Walkin' back to happiness
45-X44005-D4" Kiss n' run
(4/1962) 4735
45-X44140-D1 Tell me what he said
45-X44141-D1 I apologize
(1962) 72050
7XCA-26074-2 Little miss lonely
7XCA-26031-5 I don't care ***

(1963) 72062
7XCA-25861-? Let's talk about love
7XCA-26161-? Keep away from other girls ***
(1963) 72091
7XCA-26225 Queen for tonight
7XCA-26226 Daddy couldn't get me one of those


7XCA-27172 Woe is me
7XCA-27173 I walked right in (with my eyes wide open)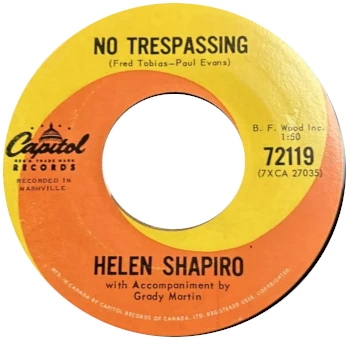 (1964) 72119
7XCA-27172 Not responsible
7XCA-27173 No trespassing


(1964) 72140
7XCA-27172 Look who it is
7XCA-27173 Walking in my dreams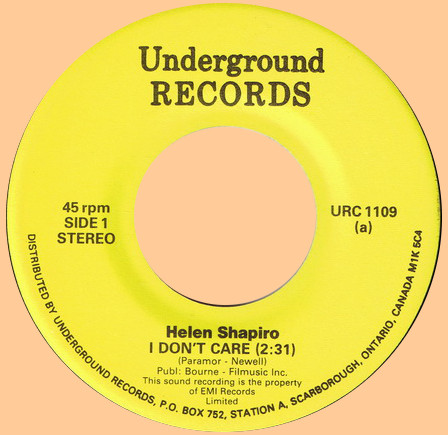 (197?) URC 1109 (Underground Records)
URC-1109-1 I don't care (Helen) (mono)
URC-1109-2 The clouds will soon roll by (Tony Brent)
(197?) URC 1179 (Underground Records)
URC-1179-1 Hocus pocus (Focus)
URC-1179-2 Queen for tonight (Helen) (Mono)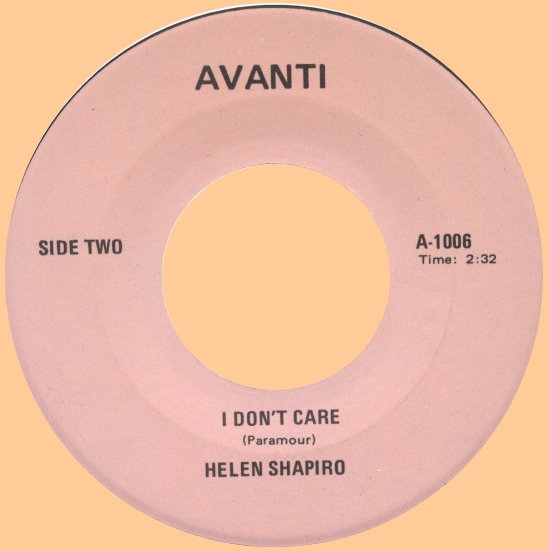 (1977) A.1006 ( Avanti records)
442 Glenwood Ave (The Pixies Three)
I Don't Care (Helen) ***
***Footnote by
P Johnson, Canada:
" I was interested to check out the listing of her singles in Canada. Please note that "I Don't Care" was the one played here, not the other side, as your list suggests. It was actually a substantial hit in Toronto in 1962, and reached #4 on the charts in Toronto in late 1962.
It has always surprised me that this one that was so big here was not a hit in the UK, and her UK hits were not known here."(Little Miss lonely was the hit in the UK)
Her only other entry was "Let's Talk About Love" #37 in Toronto in late 1963.
In the US, "Walkin' Back to Happiness" hit #100 n the Billboard Chart, and was her only chart entry there.
In Canada, "I Don't Care" was on Capitol, an American label, but the Canadian Branch issued many singles, sometimes not available in the States. The Canadian capitol releases had label numbers beginning with '7', so are easy to identify.
During the "British Invasion" several bands such as the Hollies, Dave Clark 5 etc were on Capitol in Canada, although on different labels in the US. Here's one other release for your Canadian section: 'I Don't Care' by Helen S. backed by '442 Glenwood Ave' by the Pixies Three, the latter being a girl group from early 1964.
The label was Avanti and the number was A.1006. Probably a re-issue from the 1970s. Certainly an odd combination of songs for a 45."

Trivia:
At least three Helen Shapiro 45s were issued by Capitol in Canada prior to the launch of her discs on the 72000 series. Source: The Capitol 6000 website
ARGENTINA | AUSTRALIA | BARBADOS | BELGIUM | BRAZIL | CANADA | CHILE | DENMARK | EIRE | FINLAND | FRANCE | GERMANY | GREECE | INDIA | IRAN | ITALY | JAPAN | NETHERLANDS | NEW ZEALAND | NIGERIA | NORWAY | PAKISTAN | PHILIPPINES | POLAND | RHODESIA | SOUTH AFRICA | SPAIN | SWEDEN | TRINIDAD | TURKEY | USA |
Most recent revision 31st January, 2018