HELEN SHAPIRO DISCOGRAPHY
The Overseas Singles France
Click on an image for more detail
Sleeves
(196-) SCDF 1121
7XCA 25477 21 (M3 216025) Don't treat me like a child
7XCA 25584 21 (M3 216024) You don't know
(196-) SCRF 525
7XCA 25842 21 (M3 218843) Tell me what he said
7XCA 25581 21 (M3 218844) I apologise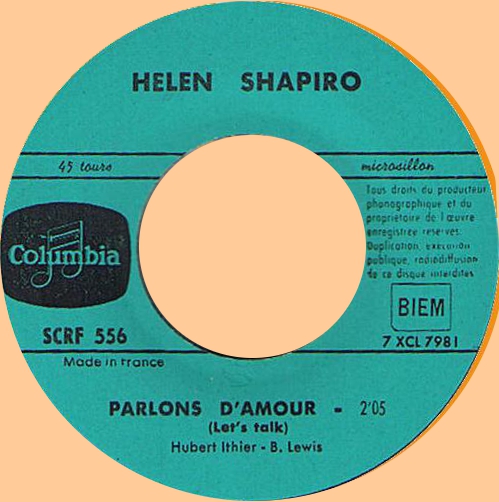 (196-) SCRF 556
7XCL 7981 21 (M3 221200) Parlons d'amour
7XCL 7283 21 (M3 221300) J'ai tant de remords
(1962) SCRF 557
7XCL 7980 21 (M3 221301) Tout ce qu'il voudra
7XCL 7982 21 (M3 221302) Sans penser a rien
(1963) SCRF 623
7XCA 26031 21 (M3 225590) I don't care
7XCA 26225 21 (M3 225589) Queen for tonight
(1963) SCRF 646
7XCA 26423 21 (M3 227036) Woe is me
7XCA 26424 21 (M3 227035) I walked right in
(1963) SCRF 744
7XCA 10058 21 (M3 233225) Not responsible
7XCA 27172 21 (M3 233226) Look who it is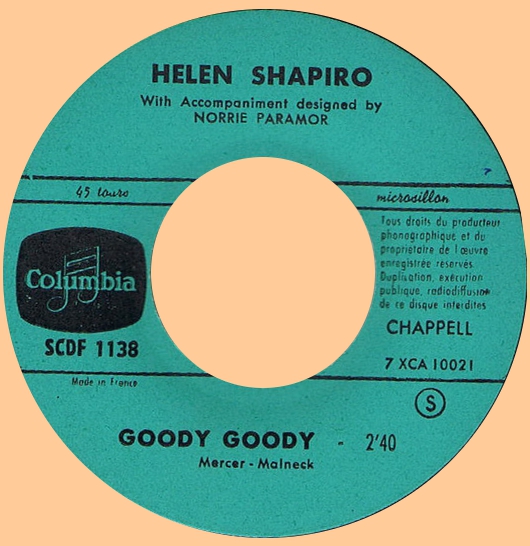 (196-) SCDF 1138
7XCA 10021 2 (M3 217658) Goody goody
7XCA 10022 21 (M3 217659) After you've gone
N45PV 11451A Today has been cancelled
N45PV 11451B Face the music

N45PV 2001A Waiting on the shores of nowhere
N45PV 2001B A glass of wine

(1975?) 4C 006-04450 M
C 006-04450 A 21 You don't know
C 006-04450 B 21 Walkin' back to happiness
(1977) PAPL-923
Can't break the habit
For all the wrong reasons (stereo)

(1978) 2C 008-60.570
60 570 A 21 M3 321 792 1 Can't break the habit
60 570 B 21 M3 321 793 1 For all the wrong reasons (stereo)

(1978) 2C 008-60.636
60 636 A 21 M3 322 236 1 Every little bit hurts
60 636 B 21 M3 322 237 1 Touchin' wood
Trivia:
The EP was the usual format in France back then. Singles (almost always no illustrated sleeve) were pressed for juke box use only.
French EP by Richard Anthony includes a cover version of You don't know
(1961) COLUMBIA ESRF 1334,
Fiche Le Camp, Jack (Hit the road, jack)
Tu Ne Sais Pas (You don't know)
Loin De Moi (Without you)
Sa Grande Passion (His latest flame).
Back to the top of the page &nbsp
ARGENTINA | AUSTRALIA | BELGIUM | BRAZIL | CANADA | CHILE | DENMARK | EIRE | FINLAND | FRANCE | GERMANY | GREECE | INDIA | ITALY | JAPAN | NETHERLANDS | NEW ZEALAND | NIGERIA | NORWAY | PAKISTAN | PHILIPPINES | POLAND | RHODESIA | SOUTH AFRICA | SPAIN | SWEDEN | TRINIDAD | TURKEY | USA |


Most recent revision 24th June 2012